Terrance Ferguson gets praise from his rookie class
The NBA released it's annual Rookie Survey Tuesday morning – OKC Thunder guard Terrance Ferguson was featured in multiple questions.
We don't know much about Terrance Ferguson. Instead of playing a year at the University of Arizona, Ferguson opted to play professionally in Australia. The move limited his exposure to the American audience, diminishing our understanding of his overall game. We do know two things though: he's uber-athletic and can shoot.
His fellow rookies tend to agree.
Related Story: How Terrance Ferguson can improve this season
In the NBA's annual Rookie survey, the 19-year old was named one of the best athletes and shooters in his entire class. He came in third in the shooting category, behind lottery picks Luke Kennard and Malik Monk. Ferguson was second for best athlete, only behind the Summer League wonder Dennis Smith.
The results for best shooter are easily the most surprising. Ferguson was hailed as a good shooter, but his numbers in Australia begged to differ. The tape shows a player with a somewhat awkward shooting form; most credible draft analysts discussed his overall inconsistency. That didn't stop his peers from putting ahead of sharpshooter Lauri Markannen, whom many argued was the second best shooter coming into the Draft.
Many of these players competed against Ferguson during the AAU days, but even they haven't seen the kid play in over a year. That's what makes these results so exciting for Thunder fans. Ferguson has all the tools to become a starting shooting guard in the NBA – he just has to put the work in.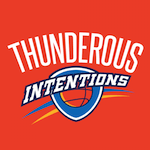 Want your voice heard? Join the Thunderous Intentions team!
Write for us!
One other interesting note for Thunder fans: Russell Westbrook ranked out as the second most popular player in this rookie class. The Brodie beat out Kevin Durant for the first time in his career.
If you want to see the answers to all ten questions, check out the entire survey here.