Figuring out the perfect Oklahoma City Thunder rotation
The OKC Thunder are extremely versatile heading into this season. That leads to a big unknown on how Billy Donovan is going to build a consistent rotation.
Before we begin I want you to close your eyes for one minute. Take three deep breaths, then imagine you are Billy Donovan, head coach of the Oklahoma City Thunder. I'll wait.
Sam Presti: Billy D, I did everything you asked. We are back in the "Top Four in the West" conversation. Our roster is better than the Spurs and just as good as the Rockets, if not better. We have 13 guys (sorry Kyle Singler) capable of playing in an NBA game.
Billy Donovan (you): I thank you for that Sam. You truly are the best General Manager in the league.
SP: Here's the thing Billy. Even with our talent, many aren't giving us a chance to surpass San Antonio or Houston. The difference is Mike D'Antoni and Gregg Popovich are proven winners in this league. You're not even with your brilliance two Playoffs ago. I know you are just as good of a coach as them, but you're experimentation in the regular season costs us valuable wins.
BD (you): I know Sam. But it's for the greater good once we hit the postseason!
SP: This season is different though Billy. We can't be a four-seed, we can't play Golden State in the second round. We need to make the Conference Finals to convince PG and Melo to stay. That's why I brought you in here today.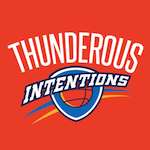 Apply to Thunderous Intentions.
Start your application process by filling out the fields below
BD (you): Okay….
SP: I want a concrete rotation for the start of the season. I understand things are going to change as we progress, but I need to see a consistent ten-man rotation for the first five games of the season.
BD (you): Funny you ask Sam, I actually already have something planned.
If you haven't figured out already, you are now Billy Donovan. Here is the rotation you have planned to start the season.
DISCLAIMER: We are assuming Patrick Patterson and Raymond Felton will be ready to go for the first game. Lineups change on a night-to-night basis, but this is a rough estimate of what we're going to see in the first few games of the season.
SECOND DISCLAIMER: This was not randomly thrown together. I went through all four preseason games to find trends in Donovan's substitution pattern. He wasn't incredibly consistent though,  and he was without a couple players in every game, hence why there will be more debate. The times are at every minute mark solely so I didn't drive myself insane.