Steven Adams – Most interesting man on OKC Thunder
There are many interesting characters in the NBA. Big man Steven Adams is one of them and certainly the most intriguing OKC Thunder player.
Steven Adams is the mountain of a man who holds down the post duties for the Oklahoma City Thunder. He is strong, skilled, and quirky in all of the most interesting ways.
One glance at big number 12 already tells you much of what you need to know. Yet, he maintains an air of mystery about him. The long, dark hair and Polynesian tattoo on his shooting arm lend to the exoticism that helps him stand out as a striking figure in Midwest USA.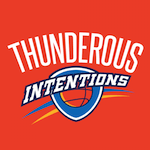 Want your voice heard? Join the Thunderous Intentions team!
Write for us!
His seven-foot frame certainly helps the imposing demeanor as does his sinister mustache. That magnificent 'stache, backdropped by unkempt and animalistic scruff… It serves as a warning to opponents that "The Kiwi", as he is affectionately dubbed, means business.
Steven Adams is often labeled as a bruiser who stands out for his toughness. Those who pay close attention understand that the subtleties and nuances of his game. That and his personality are what truly separate him as a one of the NBA's most interesting players.
There is much that could be said about Adam's appearance and demeanor, but his on-court contributions are certainly worth a mention as well.