OKC Thunder extend win streak to six despite missing two starters in Orlando
Riding a five game win streak the OKC Thunder extended it to six with a tough win on the road over the Magic. Player grades offer up the highlights from the match.
Missing a pair of starters, the OKC Thunder were still able to win in Orlando although the young Magic squad never made it easy.

126

117
The OKC Thunder were able to score 32 first quarter points, including 14 from MVP candidate Paul George who has stepped up all season long, and tonight was no different down two impactful starters.
At halftime, the OKC Thunder held a 69-63 lead with Paul George having already poured in 31 points. The Magic once held a ten point lead in the first half, and the OKC Thunder held a nine point lead of their own.
OKC saw their free throws fall at an 83 percent clip and hit their shots from the field at a 51 percent rate. The OKC Thunder only had three first half turnovers and continued their Sunday Night block party into Tuesday night with four blocks before halftime.
The OKC Thunder blew a 15 point lead in the second half, in a game that saw 11 lead changes.
The fourth quarter saw a back-and-forth score-for-score start. The fourth quarter was taken over by Dennis Schroder who got more run in that "closing" lineup with the absence of Terrance Ferguson, and Schroder was why the team created some separation in the final frame. Schroder finished with 21 points shooting eight of 11 from the field.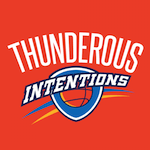 Want your voice heard? Join the Thunderous Intentions team!
Write for us!
Nerlens Noel hit a layup off a nice feed from Russell Westbrook with a minute seventeen left in the contest to seal the win for OKC. Noel, in spot start duty for Steven Adams, scored 12 points with four blocks and a steal.
This was a nice win for the OKC Thunder.