OKC Thunder owe their good start to fit and production of role playing 'others'
OKC Thunder big three are doing their part, but it's the effort and perfect fit of 'the others' who are raising the clubs stock this season.
Sitting comfortably in the third seed the OKC Thunder are progressing into a tough segment of their schedule. The teams big three are doing their part with Paul George waging a credible MVP -DPoY campaign, Russell Westbrook yet again averaging a triple-double and Steven Adams doing all those little things Thunder fans have grown accustomed to.
And yet, it's the team's 'others' who push the Thunder beyond being just another Western team mired in the mix under the Warriors.
Jerami Grant: making defensive strides
I must confess – I was not a fan of Jerami Grant's three-year, $27 million deal. $27 million felt like an awful lot of money, even for a small town team desperate to secure talent.
At that point, Grant's defensive switchability seemed more like a conceptual fantasy than empirical truth. Grant didn't feel like he had the defensive smarts to truly comprehend the defensive schemes behind switching, much less share a backline with Nerlens Noel, another block-chaser.
On offense, Grant's unending length made him a useful roll man, but he couldn't go beyond converting around the rim.
Since the start of the season, Grant has largely proved me wrong.
First, look at Grant stop Giannis in transition. Giannis is one of the league's most imposing transition forces, and Grant shuts him down. He doesn't rely on his length or athleticism here, just making the right read to not try and draw the charge, and just make a play for the ball.
On the next play, Grant catches the ball as he dives towards the rim. Before this season, he probably would have just mindlessly tried for the jam. Instead, he makes the perfect pass into the shooter's pocket, over three defenders, for the corner three.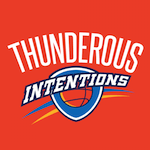 Want your voice heard? Join the Thunderous Intentions team!
Write for us!
When Sam Presti first traded for Jerami Grant, many thought that it was just to dump Ersan Ilyasova's salary. Instead, the Thunder acquired arguably the key to its insane range of switchy defenders.