Semaj Christon and Jerami Grant's contract guaranteed
Semaj Christon and Jerami Grant are here to stay! Their contracts got guaranteed to meet the January 10th deadline for non-guaranteed contract players; it was more complex than it sounds.
It's honestly astounding how strange rules are in the NBA. Fred Katz tweeted this:
So everything was all fine and dandy, but the Cap God Eric Pincus made sure we got the full story.
Wonderful. I like having Jerami Grant and Semaj Christon around. I think Grant is the most important prospect on the Thunder, not Domantas Sabonis. And Christon is nice because he's on one of the cheapest contracts in the NBA (469th to be exact).
So what's going to happen with these two in the future? Seeing that I'm so high on Grant, I'd that he's here to stay for the long haul. Since coming to Oklahoma City he has shot 37% from deep, a big uptick from his 29.2% career average.
Related Story: Five shooters the Thunder should target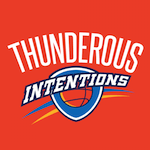 Want your voice heard? Join the Thunderous Intentions team!
Write for us!
Grant's problem-like most young guys-is he can't finish. He also can't dribble, and that's a problem for a 6'8 athletic perimeter player. But those are skills you can teach. You cant teach Grant's rare athleticism, good defensive instincts and work ethic that is raved about.
He's only set to make a little over a milli next season, but don't be surprised if they try to sign him to an extension this summer. Grant's not putting up eye-popping stats, so it's feasible they could sign him to a Jae Crowder-like contract.
As for Christon, he'll stick around for awhile. He'll make 905k next year and $1,050,262 in the 2018-2019 season. That's nothing in this day and age. Christon may be rough to watch sometimes, but he's worth the investment for a third string point guard.
Like what you read? Follow Thunderous Intentions with the FanSided app! Select TI for instant updates as soon as we post our daily features, pre/post game analysis and everything else your little heart desires.