Film Festival Series: Part 2 with Doug McDermott – Quiet Potential
Film Festival is a new player series, where we imagine ourselves couching up with Thunder players in the film room to see what went well and what went wrong this season. Today, we look into the Thunder's latest addition, Doug McDermott.
Film Festival breaks down ten OKC Thunder players' season footage. If someone like Doug McDermott has any highlight play, like a miraculous full court bank shot or an embarrassing Shaqtin fumble, then this would be the place to revisit them.
But, by and large, these film sessions focus on breaking down each player's best contributions. We cover a myriad of things – technique, tactics, tenacity. You name it, as long as these plays look at the hidden intricacies of the game, we do our best to bring them into the light. Ultimately, we base our evaluation on two factors: what the team needs of a player, and what their personal strengths are.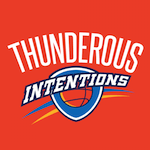 Want your voice heard? Join the Thunderous Intentions team!
Write for us!
For example, Victor Oladipo being aggressive and hunting for his own shot means a different thing for the team than Russell Westbrook delivering what might be considered a selfish play.
With that, we get into breaking down McDermott's Dr Jekyll and Mr Hyde-like game.