OKC Thunder NBA Draft Prospect Series: Terrance Ferguson
Electing to skip going to the NCAA, NBA hopeful Terrance Ferguson took his talents Down Under. Ferguson did this despite heavy interest from several major NCAA teams, including Louisville, Arizona, North Carolina, and UCLA. He had even committed to Arizona before ultimately deciding on going pro in Australia. Is he a prospect the OKC Thunder should consider?
If one were to just look at his stats over the course of his season with the Adelaide 36er's, one would think Ferguson didn't have much of an impact for his squad. That's a mistake, as much of what Ferguson did on the court didn't necessarily translate into statistical success.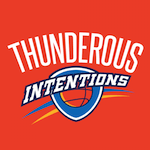 Want your voice heard? Join the Thunderous Intentions team!
Write for us!
Height: 6'7″
Weight: 186 lbs
Wingspan: 6'8.75″
Position: Shooting Guard
Age: 19 years, 1 months
Statline: 4.6 points, 1.2 rebounds, .6 assists, .2 steals, .3 blocks
International: Adelaide 36er's, Australian National Basketball League
Home Town: Tulsa, OK
Skills and Weaknesses:
Like I said, not much in the way of statistics. However, Ferguson, though extremely raw, has a lot of upside. What stands out the most to me is Ferguson's willingness to compete. He's not shy about finding a body to box out, and he's a willing defender.
He'll need to add some weight in order to survive in the NBA. However, he's got a good frame for a shooting guard in the NBA, coupled with explosive athleticism (highlighted by a 38″ max vertical). His aggressive nature and quick lateral movement, with the proper tutelage, could make him a pest on the defensive end.
Ferguson's jump shot is inconsistent, both in results and form, but fixable. One executive told Scott Howard-Cooper "That kid is going to be the surprise of the draft. He's an outstanding shooter." Clearly, some teams in the NBA believe in his shooting ability.
He gets a lot of lift under him, which will certainly help him shoot over NBA defenders. His ball-handling figures to be the most problematic part of his game, with not many go-to moves to break down defenders. At this point, he projects to be more of an off-ball guard and a threat running the floor in transition. He'll certainly need to limit forcing contested shots as he transitions to the NBA.
Rankings:
For the most part, the experts agree on Ferguson, who's projected to go in the latter part of the draft:
DraftExpress: 24th overall prospect
NBA DraftNet: 25th
Scott Howard-Cooper nba.com: 19th
The Ringer's Kevin O'Connor: 21st
CBS Sports: 17th
Basketball Insiders: 22nd
Hoops Hype: 23rd
Jeremy Woo SI.com, The Crossover: 21st
Please note, these rankings are as current as this writing, and are subject to change.
Honors and Awards:
All of Ferguson's awards came at the high school level:
2016 McDonald's All-American
2015 FIBA U19 World Championship Gold Medal
2014 FIBA U17 World Championship Gold Medal
2013 FIBA Americas U16 Championship Gold Medal
Pro Comparison:
The Ringer's Kevin O'Connor provides a ceiling comparison for every prospect. O'Connor compares Ferguson to Terrance Ross and Stephen Jackson. Both are accurate comparisons, although, if everything breaks right for Ferguson, I believe there's a chance he can outclass both comparisons.
The Fit:
The OKC Thunder pick 21st in the first round of the draft, and should not hesitate to take Ferguson if he's still on the board. Ferguson projects as a 3&D player, a role which holds immense value for every team in the NBA. For the OKC Thunder specifically, Ferguson's combination of athleticism, shooting, and defensive potential all fit beautifully.