Semi Ojeleye: OKC Thunder NBA Draft prospect series
Semi Ojeleye is the next potential OKC Thunder prospect up in the TI NBA Draft prospect series.
Tale of the Tape
Height: 6′ 7″
Weight: 235 lbs
Wingspan: 6′ 9.75″
Position: Forward
Age: 22.5
Statline: 19 points, 6.9 rebounds, 1.5 assists, 0.4 steals, 0.4 blocks,
College: SMU (Junior)
Home Town: Overland Park, Kansas
Current Rankings
As always, the rankings reflected below are as current as of the time this is being written and are subject to change.
DraftExpress: 20th
NBA DraftNet: 38th
Scott Howard-Cooper nba.com: ranks 5th on Howard-Cooper's small forward list
The Ringer's Kevin O'Connor: 21st
CBS Sports: 35th
Basketball Insiders: 23rd
Jeremy Woo SI.com, The Crossover: 30th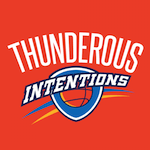 Want your voice heard? Join the Thunderous Intentions team!
Write for us!
Skills:
Big. Strong. Athletic. Aggressive. All words to describe SMU's hybrid forward Semi Ojeleye who broke out in a major way after transferring from Duke. Standing at 6'7″, weighing 235 lbs of solid muscle, and armed with a 40.5 inch max vertical, Ojeyele already has an NBA body. He already has a robust set of offensive skills to go along with it. Ojeyele was competent from 3, shooting 42.4 percent on 4.2 attempts per game at SMU. He averaged 3 offensive boards per 40 minutes, showing a knack for getting the ball off the offensive glass.
With his strength, and an advanced footwork repertoire, including a phenomenal jab step, Semi is able to get to his spots and convert. He's got a good turnaround jumper off of both shoulders, and a nice quick release on his jumper. His leaping ability will make him a prime candidate for alley-oop finishes that will break NBA Twitter. At 6'7″, with good footwork, Semi should eventually be able to guard both the three and the four in the NBA to some degree of success. He stays down and stays in front of his man for the most part. His driving ability gets him to the free throw line a fair amount, shooting 6.3 freebies a game at a 78.5 percent clip. Ojeleye's calling card in the NBA will be his ability to play both forward spots.
Weaknesses:
Although he shot 42.4 percent from deep in the NCAA, Ojeleye is going to have a rough time transitioning to the NBA three point line, as most of his makes came from NCAA range. His 6'10" wingspan is going to be problematic on the defensive end when guarding most NBA fours, as most can simply shoot over him. On offense, Ojeleye is a bit of a ball-stopper at times. He doesn't make the extra pass and doesn't hesitate to shoot early during possessions. The most worrisome part about Ojeleye is his lack of mental awareness at times. Despite his size and vertical, Ojeleye plays under the rim in traffic, and sometimes struggles to finish through contact.
Honors and awards:
AP Honorable Mention All-American (2017)
AAC Player of the Year (2017)
First-team All-AAC (2017)
AAC Tournament MVP (2017)
Pro Comparison:
The Ringer's Kevin O'Connor compares Semi Ojeleye to Stanley Johnson, Jae Crowder, and Jonathan Simmons.
The Fit:
Sam Presti should consider Ojeleye if he's still available at pick 21. His versatility in playing both forward slots, plus his physical tools will be great assets to the OKC Thunder. His three-pointer will come along eventually as he gets used to the NBA range.