OKC Thunder in the news: Russell Westbrook Day could offer super max celebration
Welcome to OKC Thunder – In the news for Friday August 4, featuring topical daily news on your favorite team and the NBA.
OKC Thunder In the News for August 4 is dedicated entirely to Russell Westbrook. After all it is his official day in OKC. It sure would be poetic justice if Russ chose this date to sign his super max deal. To wit, Thunder Nation will be paying special attention to social media to see if Westbrook decides to use his sanctioned name day to sign his Designated Player Extension contract. He is in OKC, but news was there was no news. Then again,both Westbrook and Sam Presti are known for being able to keep secrets. Therefore, it's waiting and see.
With that, let's see what's in the news….
Westbrook makes top 10 trolling list – twice!
Bleacher Report's Dave Schilling serves up his top ten NBA Player troll list with Westbrook taking two of ten spots. Not surprisingly Brodie made the list specifically for his cupcake post on July 4 and for sporting his photographer outfit to Oakland.

For those who missed the references former OKC Thunder member Kendrick Perkins referred to teammates as cupcakes (soft) when they didn't play at 100 percent. The photographer bib was a direct shot at Durant who enjoys photography as a favorite past time. Though, it needs to be noted Durant topped the list with his cupcake hat featuring a championship ring instead of a cherry on top.
Second chance to get Westbrook 'Why Not?' sneaker:
Fans who missed out on purchasing Westbrook's 'Why Not?' Air Jordan 31 here's the second opportunity. As per Brandon Richard of Sole Collector:
Worn by the NBA's reigning MVP and during a triple-double season, Russell Westbrook's "Why Not? Air Jordan 31 is a true piece of sneaker history. For those who missed out on the April release, Kicks Store is offering a second chance.

The retailer will be stocking a run of the special make-up this Friday, Aug. 4 at 10 a.m. EST. Drawing cues from the Oklahoma City Thunder and a Player Exclusive Air Jordan 3 made for Westbrook in 2013, the shoe sports a black and cement grey upper, with orange and blue accent hits.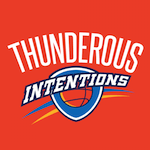 Want your voice heard? Join the Thunderous Intentions team!
Write for us!
Ref Crawford list Westbrook and Harden hardest to officiate:
Even the officials are in awe of the OKC Thunder point guard. Danny Crawford who is retiring noted Shaq was difficult for the officials due to so many players flopping against him. Harden made his top two active players list. Crawford takes the high road calling the Beard's moves crafty but legal. In other words Harden found a loop hole presumably similar to what Durant did with his swipe through move. But, Westbrook gets straight up praise from Crawford:
"Harden has brought a different element to the game that's legal but crafty, and for us, it's not flopping. It's just craftiness that makes him a difficult guy to referee. Russell Westbrook's pace is such to where he has changed how we transition up and down the floor with his speed and intensity going to the basket. Your concentration has to be on another level to referee that guy."
For a great read on Crawford who retires after 32 seasons check out K.C. Johnson's Chicago Tribune article.
Westbrook's intentions made clear through social media:
Finally TI's Jeremy Lambert resident scribe and humorist offers his take on why Westbrook will sign the big deal with the OKC Thunder. Lambert dives into the Brodie's social media offerings as hints to why Russ will stay in OKC.
I have combed through Westbrook's social media over the past month and my findings have been astounding. Not only is Westbrook going to sign the extension of Aug. 4, he's also going to purchase the Houston Rockets, win a Grammy, and retire on Aug. 5 to become a writer for Thunderous Intentions. Allow me to explain.
That wraps up OKC Thunder In the News for August 4. Enjoy Russell Westbrook Day and be sure to make OKC Thunder, In the News part of your daily fix.