Thunderous Thoughts: The sky is not falling in Oklahoma City
Welcome to
Thunderous

Thoughts, your weekly look at the OKC Thunder. This week, there is actual basketball to talk about. What a novel concept.

We're one week into the NBA season and the OKC Thunder sit at 2-2. Not a bad record, but given the firepower on the squad, most fans probably hoped for better. And it could be 3-1 if not for an Andrew Wiggins buzzer beater, so the sky isn't exactly falling. That's the theme for this column: the sky is not falling.

Neither is Paul George's shot, Russell Westbrook's free throws or Andre Roberson's anything.

As most expected early in the season, there have been growing pains. Defensively, things have been fine for the most part. The team came out with little effort against the Minnesota Timberwolves, but managed to tighten up in the fourth quarter. The T'Wolves just hit some tough shots at the end of the game.

Offensively, everyone is still adapting. Westbrook has been erratic and perhaps a bit too passive, George is forcing things far too much and Anthony still gets tunnel vision. This was always going to happen.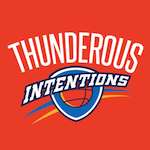 Apply to Thunderous Intentions.
Start your application process by filling out the fields below
George and Anthony have never played with a player at the level of Westbrook. Westbrook has never played with two guys at the level of George and Anthony. Chemistry doesn't develop over night. You have to pour a bunch of stuff together, deal with some explosions to the face and finally figure out the right formula.
The good news is that all three guys appear willing to figure it out, especially Westbrook. He's going out of his way to get George and Anthony involved. It's up to the other two to not abuse Westbrook's passiveness and, instead, return the favor. If that happens this offense will be downright scary. And it's already scary just based on personnel.
Fans should be fine with growing pains early in the season.
The Miami Heat trio of LeBron James, Dwyane Wade, and Chris Bosh entered December with a record of 10-8. They came out of December 25-9.
I fully expect this team to take until December to realize 75 percent of their potential. Enduring these struggles now should make the team stronger as they figure out what's working and what isn't. If they're not well above .500 by the time Houston rolls into town on Christmas, that's when we should worry.
But four games into the season. The sky is not falling.
Other Thunder Thoughts
*Injuries have played a part in OKC's slow start. Andre Roberson and Patrick Patterson both underwent offseason knee surgery. Neither guy looks where they need to be. They're out there, and they're not the only guys in the league recovery from surgeries, so it's tough to make excuses. However, these two are very important role players and OKC needs them at their best, especially on the defensive end.
*I'm not 100 percent in love with Anthony's shot selection, but there's no denying that he can score from anywhere and make tough shots. It's why you just live with some of his choices and hope that he improves his decision making as the season goes along. He needs to remember that he's no longer on the Knicks. He's not only playing with two All-Stars, he's playing with a handful of smart role players who can contribute if he's willing to get them involved.
*Someone fix George's shot. It looks fine. Someone just make the ball go in.
*Westbrook needs to stop missing so many free throws. He's shooting less than 60 percent from the line. Thanks inexcusable for him.
*Steven Adams has been the MVP through four games. He has complete command of the defense and is picking up easy points on offense thanks to the newfound space. Adams should get 12-15 a game on zero dribbles.
*The officiating in the Pacers game should be reviewed by the league. It was embarrassing.
*I'm happy to see Victor Oladipo do so well in Indiana. He was put in a bad position last year, didn't deliver, but has the talent to be an offensive star in the league. With less pressure in Indy, he's thriving. But "less pressure" is the key in that sentence. He thrived in Orlando with less pressure. He faltered in OKC. I think Oladipo can be the third or fourth guy on a championship team, but right now he's trending towards "stat stuffer on a bad team."
*The team has to find a way to get Alex Abrines more involved. He's taken one three in the last two games. He should get three-four open threes a night.
*How nice is it to have a backup point guard who can do basketball things? And Raymond Felton isn't just doing basketball things, he's a key contributor on this team right now.