Thunder in the News: Need to see a different team tonight
Tonight is the first game of a new season for the OKC Thunder. Why? Because they need to erase any semblance of memories from their past two games.
It's a new season OKC Thunder Nation.
Obviously that isn't the case, but it's the mentality Oklahoma City needs to go into tonight. Forget about an inconsistent regular season. Erase the memories of Game One which resulted in an easy win. Eradicate the thought of Ricky Rubio splashing an endless number of threes in your grill. Those thoughts must go and be replaced by something new: hunger.
Talent alone should push the Thunder to a victory in this series. The problem is they haven't played like they truly wanted to win since Game One.
The Thunder's biggest weaknesses have been exposed
It's truly a shame that a team with this much talent, potential and veteran leadership is still struggling with consistency this late in the season. Oklahoma City proved they had the defense in the first quarter of Game Three, but proceeded to lose their intensity on that end. 22, 36, 31, 26 – that's Utah's scoring outputs through each quarter.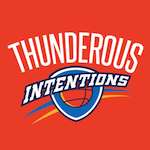 Apply to Thunderous Intentions.
Start your application process by filling out the fields below
Effort alone could be the difference between a positive and negative outcome tonight. The Thunder have other things to address, but that should be their biggest key for Game Four.
A total concentrated effort on defense has to be the overall goal for the Thunder in the upcoming games.
We have to hold Westbrook accountable
That effort starts with Russell Westbrook. As the leader of this team, he sets the tone for how the rest of his teammates will compete. If he's not going to consider stopping his man, neither will his fellow teammates. Rubio going off might have been the best thing to happen to Russ/the Thunder, solely because it has become increasingly telling how a nonchalant point guard can lose a game for their team.
Russ has to be 10000X better tonight. If not we will experience a third straight loss.
Game Three takeaways highlight what OKC needs to do to win
And finally, we take an in-depth look at what Game Three taught us. My cohort did a great job nailing down how this Utah team has taken steps to neutralize the Thunder's stars, while also explaining how OKC's leaders have done the same things to themselves. It's a great read, one that perfectly encompasses the current state of this team.
Yet, there is still the belief this squad would serve up a masterful performance invariably to deliver when it matters most. Suffice to say OKC are at that point.
That's it for today's issue of Thunder in the News! We've got all the content your heart desires over at our homepage, including breakdowns on what Oklahoma City needs from their stars in order to win Game Four and beyond.