OKC Thunder In the news: fans too close for comfort, PG-Russ bonding
The OKC Thunder may be done for the season but the players continue to bond and reflecting on the fan situation.
With the OKC Thunder finishing their exit interviews a week ago it probably wouldn't be unreasonable for the players to disperse back into their own personal lives. But, Russell Westbrook who kept citing relationships throughout his exit interview wasn't just waxing poetic. Hence, Russ is taking his own words seriously. Consequently, Westbrook said this past season the brotherhood was strong and he recognized how important relationships are.
Although he was quick to say Paul George's free agency will be based upon what is best for him and his family he also said PG stated he wants to return. Perhaps, his way of keeping George happy and wanting to stay in OKC is via their burgeoning friendship.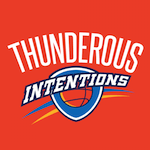 Want your voice heard? Join the Thunderous Intentions team!
Write for us!
Paintball bonding:
To wit, this past weekend the pair teamed up to play some paintball. In the video below you see the pair playing and laughing it up.
The second video provides a more detailed look at the pair first holed up in a building and later as they track down their opponents. Westbrook is clearly heard laughing.
Furthermore, a thread on Reddit says the pair were spotted out for dinner with their wives. Apparently there was an instagram story on this, but I had zero luck finding it. Bottom line, Russell is still bonding with George and unlike his previous star buddy Durant, this relationship appears to be solid off the hardwood.
Are Fans Pushing the Boundaries?
I've touched on this back in the season when the fan came onto the court at the end of the Nuggets game in Denver. At the time, I pointed to the events which led to several players who had to serve long suspensions for going into the stands.
But, what exactly is the protocol for fans who don't respect the players space. I'm sure all players are used to the normal cat calls, smack talk and general shade. But, how much is too much. Doesn't it seem appropriate to enforce fans not being able to invade players space? And, at what point will the NBA deem fans are going too far.
In the Press Democrat an article by C.W. Nevius expands on this topic. Nevius points to the issues Westbrook experienced in both Denver and Utah. This past week James Harden also experienced an in your face Jazz fan. Draymond Green is states he's used to getting booed, but he's not cool with racist comments he's currently had spewed at him.
In professional basketball, the fans basically sit on the court. Seats are sold that are literally at the end of a team's bench. To find a place to stand while inbounding the ball, a player may have to nudge back someone's shoes. And how about hitting a 3 from the corner with some beer-breath bozo yelling in your ear?
When fans see other fans getting in players faces the image registers, so moving forward it subconsciously says that's okay. When passion is involved (and drinking with the fans) the situation can become caustic.
Therefore, here's hoping Silver is smart enough to institute policy to be followed. Otherwise, mark my words, in the next season three will be an incident of either a fan getting physical, a player or the combination of both. Worse, what if a team gets into it with fans. This situation has the potential to explode and needs to be nipped in the bud right now.
That's it for In the news on Monday May 7th. Enjoy your week and make sure to bookmark Thunderous Intentions and add the app to your cell phone so you catch all the newest articles as the drop.