OKC Thunder – Top 10 moments of 2008-2009 season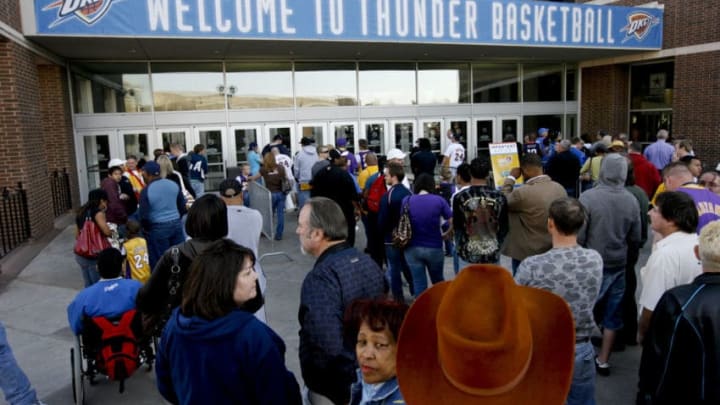 UNITED STATES - MARCH 24: Fans wait to enter the Ford Center for a National Basketball Association (NBA) game between the Los Angeles Lakers and the Oklahoma City Thunder in Oklahoma City, Oklahoma, U.S., on Tuesday, March 24, 2009. Nearly three decades after an energy bust that forced 122 banks to close statewide, Oklahoma City is in the fifth year of an economic expansion that's produce the lowest jobless rate for a major metro U.S. area. Oklahoma City demonstrated it could support a NBA team, encouraging the Seattle Supersonics to move permanently and become the Thunder, which now draw crowds as large as the Boston Celtics. (Photo by J.P. Wilson/Bloomberg via Getty Images) /
The OKC Thunder inaugural season offered plenty of memories. Here are the top 10 moments of the 2008-2009 season.
The OKC Thunder are celebrating their 10-year anniversary, and we here at Thunderous Intentions are celebrating with them. Welcome to Part One of the Historic Triple-Double,10 moments from 10 seasons in 10 articles. Let's time travel.
Do you remember where you were when you found out that Oklahoma was getting an NBA team? I know I do. I was in the cafeteria of Berryhill High School in Tulsa, having lunch. That lunch did not get eaten.
Do you remember if you were an NBA fan before that? I know I do. I was a fan without a team. My only loyalty was for my favorite player, Shaquille O'Neal. I had followed him throughout my childhood from Orlando to Los Angeles to Miami, my favorite color of Fla-vor-ice changing from blue to yellow to red as he went. In April, 2008, though, my favorite color of Fla-vor-ice froze as blue, and I never ate another color.
Reports were that the Seattle SuperSonics would be moving to Oklahoma, in a deal that would be challenged by Seattle but was sure to go through eventually. At the time, it seemed ridiculous. The highest level of professional sport in the state at the time was… the Tulsa Oilers? Tulsa Drillers? Tulsa Talons?
No, Oklahoma was a state for college sports. It was OU, OSU, and it was Bedlam. Even more than that, Oklahoma was football. It's still a football state, but basketball has dug out a deep foothold in the red dirt.
Where it all began
This franchise has been to one Finals, four Conference Finals, and the Playoffs every year except the very first and the accursed 2014-2015 season. It's seen two MVP trophies, a third future MVP, 15 All-Star Game appearances, 13 All-NBA selections, and most recently a second superstar free agent choosing to stay.
To date, a championship is the only thing that's eluded the OKC Thunder, and the 10 years have been, by any objective NBA standard, a resounding success. The organization is famously forward-thinking. But today, on the 10-year anniversary of the announcement that the Seattle SuperSonics would be relocated to Oklahoma, let's take a moment to look back at the top 10 moments from that first season in 2008-2009.
Follow me back, back, back, to a time when the NBA in OKC was only a twinkle in Clay Bennett's eye. To a time when googling "OKC Thunder" returned far fewer results than "Oklahoma City NBA" and when dot-blogspots roamed the internet. Follow me back to where this all began.