OKC Thunder trade deadline: Milwaukee Bucks have few holes to fill
Next up in the OKC Thunder trade deadline series T.I. looks at the Milwaukee Bucks who feature depth, solid chemistry which is why they aren't expected to make sweeping changes.
The OKC Thunder arrive at trade deadline week still seeking to add depth to their roster. Specifically, the major areas the Thunder seem most likely to target is shooting via players who can stretch the floor and adding depth to positions. Steven Adams and Nerlens Noel have done an amazing job of platooning the center role. However, when each was forced to miss games it highlighted the need for more depth at the center position.
The other running narrative is how poorly the OKC Thunder have shot for the majority of the season although things have been improving with the squad progressing to the mean.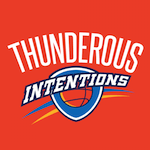 Want your voice heard? Join the Thunderous Intentions team!
Write for us!
In terms of the Milwaukee Bucks, they enter the deadline with one of the deepest squads in the Association. Moreover, their club is functioning at an extremely high level with the system clearly built to capitalize on their lone superstar Giannis Antetokounmpo.
New head coach Mike Budenholzer has the Bucks performing like a well oiled machine. Shooters spread the court allowing Antetokounmpo ample floor spacing and open driving lanes to function in.
As a team everyone knows their roles, fits the system and the oncourt chemistry looks equally solid. Finding holes in their squad is more about looking forward to the postseason when squads will game plan to put pressure on the Greek Freak and whether the Bucks 'others' will be able to deliver when this happens.
If there are any areas the Bucks may want to shore up it would be finding additional playmakers and defenders.
With that let's dive into the Milwaukee Bucks with a view to specific needs, which assets are likely to be on the block and who could bolster the OKC Thunder squad.