OKC Thunder: If it's a three it's for me – examining improved perimeter shooting
From worst, to first, T.I. examines how the OKC Thunder have gradually transformed their perimeter shooting month by month.
When the OKC Thunder faced off against the Washington Wizards on January 6, it was an ugly game. Washington came in having lost six of their previous 10 games. That did not prevent the Wizards from handing Oklahoma City their most lopsided loss of the season, 116-98.
Oklahoma City played so poorly what looked like an aberration, actually resulted in a positive trend. On that night versus the Wizards, OKC shot 10-25, 40.0 percent from beyond the arc. The game marked the eighth instance this season OKC shot 40 percent or better from the perimeter. Since the Wizards game, Oklahoma City has posted 40 percent perimeter accuracy in 13 of their 17 games.
Shooting is science, therefore if the first two and half months of the season were a science class Oklahoma City was failing. Now, they are passing their science course with flying colors.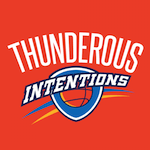 Want your voice heard? Join the Thunderous Intentions team!
Write for us!
If it's a three, it's for me
Prior to January 5, the OKC Thunder placed dead last in 3-point efficiency, shooting at a 32.0 percent clip. Since, January 5, the Thunder rank first, in 3-point percentage at 42.6 percent.
Their attempts are roughly the same 31.9 versus 30.0 attempts per game, catch and shoot attempts are identical 22.1 pre and post-January 5, and their pull-up 3-point attempts have not differed much either: 7.5 attempts versus 8.0 attempts in the same timespan.
So what has changed for the OKC Thunder from the perimeter?
Each month the team has gradually improved their 3-point shooting:
Upon closer inspection, the Thunder's catch and shoot stats are quite revealing. Prior to January 5, Oklahoma City did not have a single player shooting 40 percent on catch and shoot treys. Since then, Oklahoma City currently has five players eclipsing the 40 percent plateau.
The Thunder player who has made the biggest leap in terms of catch and shoot accuracy is second-year guard Terrance Ferguson. T-Ferg has increased his percentage by an astounding 14.2 percent in his last 17 outings.
Ferguson's improvement is followed by Dennis Schroder, who sharpened his stroke by 14.0 percent and Patrick Patterson who improved his efficiency by 12.5 percent.
*Above percentage increases are based off catch and shoot three's and a minimum of 30 attempts.
Closing Thoughts
Improved shooting could simply be attributed to the fact shots are just going in the basket. When the Thunder were shooting poorly, head coach Billy Donovan remained steadfast that the team was better at shooting than what they had displayed.
Donovan often likes to use the phrase 'It lies somewhere in the middle' this is precisely what is currently transpiring with Oklahoma City's 3-point shooting. They are certainly not as poor as they showed earlier in the season and they are not as prolific as currently presenting.
Enjoy the hot shooting for Oklahoma City, the law of averages is bound to cool them off.
All stats for this post are as of February 12, 2019, unless otherwise noted.