OKC Thunder: TI editor power rankings week 19 – strength of schedules loom
Week 19  NBA power rankings find the OKC Thunder remaining among the elite while the strength of schedule relevance increases. Here's how the teams rank.
Coming into week 20 there are seven weeks remaining in the season and for the OKC Thunder, 23 games remaining. The stretch run has begun in earnest with teams raising their intensity and quality of play as they jostle for playoff berths or seeding.
The strength of schedule bears more weight at this stage in the season and although the Thunder are ranked with the most difficult slate of opponents they may be the one squad who welcomes that challenge.
A scan of the Association's 30 teams offers clear delineations. Six teams have cemented their lottery ticket with a further three seemingly leaning in that direction. Of those, the Suns, Knicks, and Cavaliers have separated themselves to gain the bottom three seeds which mean they'll have an equal opportunity (14 percent) of landing the top draft pick.
The next tier which includes the Bulls, Hawks, and Grizzlies as well as the Wizards, Pelicans, and Mavericks may be waging another type of tanking war. Given how the revamped lottery weighting works for some the second lowest tier (teams ranked 27th through 23rd) will play their games knowing there is an increased chance of teams who finish in the middling ground of the lottery to nab the fourth seed for example. This was explained quite well on Brian Windhorst recent Hoop Collective podcast (go to the 43:30 portion).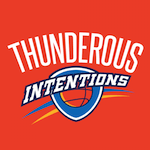 Want your voice heard? Join the Thunderous Intentions team!
Write for us!
In essence, a team like the Pelicans, for example, could finish eighth from the bottom but still have a 27 percent chance of snagging a top fourth pick and if they finish seventh from the bottom those odds increase to 33 percent. Anyway, keep an eye on teams like the Pelicans, Mavericks, Grizzlies and other trying to move down to seeds sixth through eight from the bottom to increase their odds of a decent pick.
Week 19 served up games versus Jazz and Kings in a back to back set for the OKC Thunder where they pulled off an excellent double-overtime victory and came close to winning both prior to tired legs giving way.
This week the typical stats are noted with emphasis again on the stretch run and associated schedules.
Let's do it!