NBA Power Rankings: OKC Thunder and peers jockey for position
The OKC Thunder enter week 23 of NBA power rankings still seeking to cement their playoff seed Here's where all 30 teams rank.
Having fought through a tough period of injuries the OKC Thunder are still searching to rediscover the comfort level the club displayed prior to the All-Star break.  Likewise, many teams in the Association know they'll be playing this spring they just aren't sure who their opponent will be.
This time of year the teams who feasted early are resting players periodically while others like the OKC Thunder can't afford to rest anyone as they try to move up the ladder. Teams who haven't taken care of business are tasked with trying to nail down their seeding and in the case of four teams in the West and five in the East try to avoid the teams at the top of the ladder.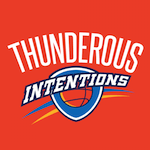 Want your voice heard? Join the Thunderous Intentions team!
Write for us!
These rankings represent games played in week 23 of action. Key stat category ranking and week 24 opponents are noted. Remaining schedules are dissected for insights on games already played (road vs. home and east vs. west performance) as well as the remaining strength of schedule and notably how many contests are against top offenses, defenses, and plus .500 clubs.
The closing slide provides excerpts and links to the national media power ranking lists.
Let's do it!