It's time OKC Thunder make a change – Top 5 reasons to fire Billy Donovan
With four cumulative wins and three successive first round ousts OKC Thunder GM, Sam Presti needs to fire Billy Donovan and bring in a coach who can get the most out of the talent on the roster.
OKC Thunder General Manager Sam Presti held his annual end of season presser with the media on Monday, April 29.  The burning question on everyone's minds was whether Head Coach Billy Donovan would be retained or fired. The initial response was the intention was to bring Donovan back, but the typical unwavering Presti solid endorsement wasn't part of his answer.
There are arguments to sway both sides, but many feel the need for a change. Presti himself may be feeling some heat. Sure, he retained the lone star Russell Westbrook after Kevin Durant bolted in free agency. But the cost to do so was steep. Adding Paul George was a savvy move albeit it came with great risk and without guarantee. Because it worked, the reward was great. Not only did it keep the Thunder competitive it demonstrated to markets outside LA and New York that playing for the OKC Thunder is a positive situation.
Not every small market could pull off a similar result, which shined a light on the quality of the franchise. That's important because free agents value a small group of criteria. Clearly, the contract (read – money and term) takes top priority, but free agents consider other elements like location, team identity, franchise interaction, roster composition, systems and — yep — who the head coach is.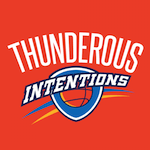 Want your voice heard? Join the Thunderous Intentions team!
Write for us!
Offseason of tweaking starts at the top:
As Presti stated, this is the first time in four years when he won't be hampered in the offseason with his priority on retention of a star free agent. Those players were Durant, Westbrook, Adams, and George. The unspoken element in this statement is that this summer Presti has time to dive into the team as a whole with a view to improving. That improvement may be entirely focused on internal development and filling roster holes via lower level free agents.
The obvious issues with OKC reside on the offensive end and the team's lack of shooters. Extrapolating further from that fact is the neon blinking sign in the corner that Billy Donovan may be a tactician but the Thunder offense is primarily based on a 'your turn, my turn' offense featuring Paul George as the primary and Russell Westbrook as the secondary option. Sound familiar? Insert Durant into George's spot and travel back via the Hot Tub Time Machine to of 2015-16.
Although Donovan reached the Conference Finals in his first season losing the series after leading 3-1 was a gut punch. Even if Donovan gets a pass for the next season given the team was basically just Westbrook providing offense there are grave concerns over two successive first round exits to make it three straight since Durant left. Sure, KD is a superstar who has tongues wagging over whether he's climbed to the top of the ladder in these playoffs. But, go through all 30 teams and only a handful boast two or more superstar talents.
Sam Presti is at a crossroad. He can't keep trotting out teams who'll regularly make the postseason but never be capable of deep runs. Not with commitments to two superstars and an annual luxury tax bill. Push has come to shove and with that even Presti's job shouldn't be considered safe.
If Sam Presti's priority is to be competitive than he needs to do whatever is necessary to make those roster dollars work. And that, no matter how uncomfortable it may be, includes firing his friend Billy Donovan and bringing in a coach capable of mastering both sides of the court and managing star egos.
Not that Sam Presti needs assistance in doing his job, but there are some obvious talking points. Knowing an end of season sit down is on tap, here are the top five reasons why Billy Donovan should get the ax.