Celtics rumored interested in OKC Thunder big man Steven Adams
The Boston Celtics are reported to be interested in OKC Thunder big man Steven Adams, could they put together a package make Sam Presti pull the trigger?
The OKC Thunder are looking to revamp their roster after yet another disappointing postseason run. The Thunder do not have many trade assets, with hardly any money to spend. So tough decisions will have to made in regard to fan favorite OKC Thunder veterans.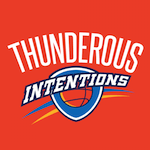 Want your voice heard? Join the Thunderous Intentions team!
Write for us!
Two of the more popular veterans that could be on the trade block for the OKC Thunder are big man Steven Adams and backup point guard Dennis Schroder.
The Boston Celtics are one team rumored to have interest in trading for the Thunder's man in the middle but do they have a package that can net the OKC Thunder enough production to effectively replace Steven Adams and make the team better?
The Boston Celtics are hurling their way towards an interesting offseason. It seems as if all bridges are burned with their front office and star point guard Kyrie Irving, and with Al Horford not seeming to be in the future plans of the C's and over 100 million dollars allegedly waiting on him, what packages can they put together to add Steven Adams?
Well, despite their assets, their packages might not be all that appealing.
Steven Adams will not garner a Jayson Tatum, or even Jaylen Brown from a Boston Celtics front office lead by Danny Ainge who was too skittish to pull the trigger on an Anthony Davis trade since Tatum was involved.
One popular opinion package is Marcus Smart and Gordan Hayward for Steven Adams. I do not think the Celtics part ways with both players to make this deal happen, and the OKC Thunder would need to use Carmelo Anthony's trade exception to make the money work.
This would leave the OKC Thunder in a big hole at the five spot, and no money left to replace Adams.
But, if Sam Presti could work some matchup and lock up the center position, Gordan Hayward is primed for a bounce-back year after a down year following his gruesome 2017-2018 injury.
The best option for the OKC Thunder, though unrealistic, is to somehow work a sign and trade for Al Horford. Reuniting Billy Donovan with one of his most productive college players. Horford would space the floor well for the OKC Thunder, but with rumors swirling of him netting 100 million dollars on the open market it, this does not seem likely. Though it would not be the first time Sam Presti pulled a rabbit out of his hat.
The Boston Celtics are interested in adding the talent that Steven Adams provides in the wake of losing Al Horford, but there just does not seem to be a package that fits.