Summer League preview: OKC Thunder host Portland Trail Blazers
Off to a 2-1 start in Vegas, the OKC Thunder will play host to the Portland Trail Blazers in their fourth and final game before the tournament portion. Let's preview what this game has to offer.
The OKC Thunder squeaked out a win on Tuesday afternoon in Vegas against Team Croatia by a final score of 84-76 in OT. With two straight wins under their belt, the Thunder aims to make it three in a row on Thursday in hopes of potentially getting a good seed in the Summer League tournament.
The Trail Blazers come into this game with a 1-2 record, coming off of a close loss to Utah on Tuesday.
Players to watch:
Anfernee Simons, the 6'4 guard who was the 24th pick in the 2017 NBA draft put on quite a show on Tuesday before going down with an ankle injury in the final minutes.
Simons lit up the scoreboard on Tuesday vs the Jazz scoring a current Summer League high 35 points on 13 of 18 from the field and 6 of 7 from behind the line. In total, Simons is averaging 22 points per game on 56 percent from the field and 66 percent from the perimeter according to NBA.com. His status for Thursday's game is unknown.
In addition to Simons, Portland also has second-year Duke guard Gary Trent Jr. as well as the 25th pick Nassir Little, who many Thunder fans might have wanted them to take at 23 before selecting Darius Bazley.
However, Little's offense has been lacking thus far, only averaging 4.3 points on 33 percent from the field throughout his three games played. However, he did throw down a nasty two-handed poster vs Utah.
https://twitter.com/Ballislife/status/1148735458693677058
For OKC, fans got the chance to get a better look at Darius Bazley in the game against Croatia. Bazley flashed his versatile offensive and defensive skill set, using his long and lanky frame to finish in the lane and block a few shots, as well as pull out a nifty post fadeaway which was Dirk-esque.
Bazley looked much more confident in his shot and much more willing as a scorer on Tuesday, look for that to continue in today's game as well.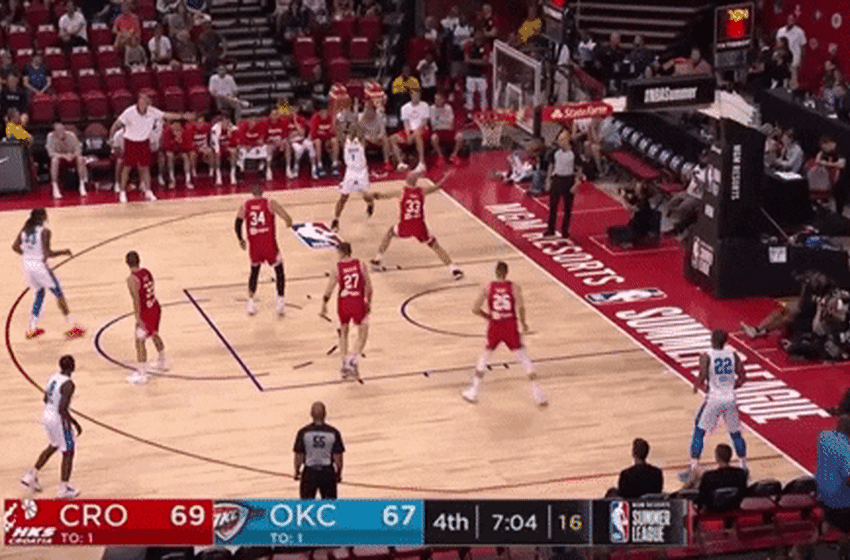 In addition to Bazley, OKC's other promising prospect Hamidou Diallo is coming off of three straight double digital scoring games in Vegas. Summer league to me is the perfect opportunity for players to showcase and improve on skills that they don't get a chance to consistently show in an NBA game.
For Diallo, this skill he has seemingly improved on has been his handle. He's gone coast to coast a handful of times throughout OKC's three games and even pulled out some nifty dribble moves on defenders. However, Diallo's jumper has not yet flashed, as he's only hit 2-12 triples during his time in Vegas.
Projected Lineups:
OKC Thunder Roster:
Guards:
Forwards:
Centers:
Portland Trail Blazers Roster:
Guards:
Forwards:
Fan Data:
Date: Thursday, Jul. 11, 2019 at 8:00 p.m. ET (7:00 p.m CT)
Venue: Cox Pavilion in Las Vegas, Nevada
Where to Watch: NBA TV
Check back post game for our player grades and quick insights on the match.