Stephen A. Smith suggestion OKC Thunder buy out Chris Paul misses the mark
Stephen A. Smith suggests Chris Paul negotiate a buyout with the OKC Thunder for over $124 million just so the Lakers can sign him on a vet minimum. The idea is ridiculous and punctuates why the NBA has work to do at creating an even playing field.
Look, I get it TV analysts, particularly ones who have to come up with daily fodder often take stands on one side of an argument. On the show First Take, it's clear Stephen A. Smith and Max Kellerman decide prior to showtime who'll take which side. It's a classic debate class if you will.
And, it makes sense from an entertainment standpoint, serve up both sides of an argument so fans can decide which position makes more sense. However, what ends up happening is some arguments presented are so far off base they are laughable.
Case in point, Stephen A. Smith's take on what the OKC Thunder should do with Chris Paul. Smith suggests Chris Paul should acquiesce and take $10 to $15 million less on his owed $124,076,442.00 contract and then Sam Presti buy out the remaining $114,076,442.00 to $109,076,442.00 million.
All this so Paul could sign with the Lakers for a pittance. Come on Stephen A. why on earth would any team, no less a Western Conference foe help the Lakers by paying for a contract just so LeBron and company could swoop in and offer less than seven percent of that for his services?
This is perhaps my greatest pet peeve about the NBA. Why should 29 teams just bend down so the Lakers can put together an underpaid team of assets? To suggest the Lakers be afforded this extra help or courtesy points to everything that is wrong with the CBA. Let's remember it was Paul (player president rep for NBA Players Association) and LeBron James who pushed for specific changes to the CBA like the 10-year bonus.
The stance Paul and James took was so all players, even those in the middle tier could benefit from increased paydays. In reality – what they were pushing for is players like Chris Paul benefitting from this 10-year vet deal and for the middling players to get paid – just as long as it wasn't their squad paying them.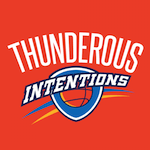 Want your voice heard? Join the Thunderous Intentions team!
Write for us!
Rather, in their individual circumstances (Paul with the Rockets last season and LeBron with the Lakers) they have no desire for those middling players to get paid. Instead, they want to sign large, long term deals and then surround themselves with players willing to take massive discounts to help them win. In a summer where the players have demonstrated they have all the power it sure feels like they also duped the owners and Adam Silver in the last CBA as well.
I'm not averse to every team signing a few of these vet or minimum contracts, but there should be a limit. I've maintained forever no team should be able to add more than two or three players on vet minimum contracts who would garner much larger deals with any other team.
It suggests the league is okay to afford certain teams unfair advantages. Go ahead and add young assets on lower end contracts or players in decline, add two or three vet minimums on a player who is looking to regain their standing (like DeMarcus Cousins last season). But don't let one team reap additional benefits by getting other squads to pay for it and help them win via unfair advantages.
Let's remember Presti moved Carmelo Anthony and his $27.9M contract via trade to the Atlanta Hawks last year and that was a contract which was considered unmovable. The difference in the Melo situation was it was an expiring contract which made it more feasible to find trade partners. Still, it was no less a difficult contract to jettison.
The fact Presti was able to get back a viable asset (Dennis Schroder) along with a trade exception speaks to his ability to turn a terrible contract into a positive. By the way, the trade exception Presti received back ($10.8M) will expire on July 25th if the Thunder doesn't use it. But, since the team is still residing in the luxury tax unless moves are made prior to that date it's unlikely it gets used.
An even better example of Sam Presti's reluctance to do a buyout would be Kyle Singler. For years the fanbase (and the T.I. team) kept pushing for Presti to buyout the seldom used and regressing Singler but the GM held fast year after year. Singler's contract paled in comparison to Paul's so again, Smith's stance truly holds no water (at least in OKC).
Singler was signed to a 5-year, $25M contract in 2015 and waived in August 2018 via a stretch provision in which the Thunder will pay $999,200 a year through to the 2022-23 season.
Ultimately, if Sam Presti can move a contract of a player like Carmelo Anthony who played just 12 games last season don't underestimate his ability to move Chris Paul and get something back in return. Even at 34 years old and with a history of injury Paul is still a productive player albeit on the downside of his career.
James Harden had the highest usage rate of all players last season, yet Paul still produced with per game averages of 15.6 points, 8.2 assists, 4.6 rebounds, and two steals. Paul's value may increase if Presti practices patience and teams near the trade deadline. Particularly teams destined for the postseason needing to shore up their backcourt (or if a contender loses a point guard to injury).
Plus, if Presti can move Paul prior to season start there's also no guarantee that team won't do precisely what Smith suggests and buy him out with the enigmatic point guard still landing with the Lakers. I just don't see Presti willingly spending over $109 to $124 million to get Paul off the books – there is no precedent for it in his tenure as a GM.
Or the team could retain Paul – but then the question has to be asked if he would be a positive force in helping develop players like Shai Gilgeous-Alexander or if his presence would be detrimental (especially if he doesn't want to be in OKC).
Presti has options and in my opinion, will exercise patience while he seeks a trade partner.
As for Smith he needs to stop trying to force the league to help the Lakers win or for the Knicks to get unfair advantages. I get it, those are the largest media markets (LA, New York). But why should every other market function to give those teams and markets an easier route to winning?
That's not to say these buyouts won't happen, and certain teams will land that same player on a vet minimum deal. Since Paul has over 10 years in the Association that would translate to approximately $2,393,887 based on last season's numbers.
Consider again Paul is set to earn $124,076,442.00 over the next three seasons with $38,506,482 due this season. Should Paul get bought out and accept the minimum deal with the Lakers it would equate to LA paying him approximately 6.21 percent of what he is set to earn on his current contract this season.
I stand by my stance; Adam Silver needs to heed these situations and not get hooked into giving the players even more power when the new CBA is renegotiated. It's time every team plays on an even playing field and it's up to the Commissioner to ensure that happens.