Enes Kanter calls Russell Westbrook the best player and teammate he's ever played with
Former OKC Thunder big man Enes Kanter once again sings Russell Westbrook's praises as the best player and teammate he's ever played with.
It's not the first time former OKC Thunder big man Enes Kanter has sung Russell Westbrook's praises nor will it be the last. Come to think of it when Enes retires he should head up The Brodie's fan club. Of course, I jest, but Kanter has been if not the most popular NBA Westbrook teammate advocate than definitely his most frequent and loudest.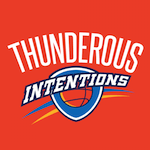 Want your voice heard? Join the Thunderous Intentions team!
Write for us!
In prior appearances with the likes of notorious Westbrook hater – Colin Cowherd Kanter told the story of how Russell doesn't tolerate the pregame or in game kibitzing normal within today's era of basketball. It was one of the few times Cowherd was impressed by something the enigmatic point guard does in games.
On his appearance today on First Things First, Kanter was back on his soapbox proclaiming Russell Westbrook to be the best player and the best teammate he's ever played with.
That's not an idle compliment. After all, Kanter also played with Kevin Durant and recently with Damian Lillard. In fact, consider the list of players Kanter has laced up beside and this compliment grows in value.
Nick Collison was once considered 'the best teammate" in the NBA. Collison came to the court ready to play whether his number was called or not. On the many occasions toward the end of his career more often than not he sat. However, that didn't stop Collison from spending time with the younger players to help them defensively or to grow their games.
Kendrick Perkins is also considered a team first guy who came to the OKC Thunder to help transition the young club into championship contenders and to work with the big men.
Steven Adams is beloved by his teammates and fans alike and was one half of the Stache Brothers duo with Kanter yet he is not the name rolling off Kanter's lips.
Scan through the roster from the years Kanter played in OKC numerous Thunder players fall under the category of a top level teammate. Andre Roberson, Victor Oladipo, Taj Gibson, but again none of these guys are taking the Turkish man's highest praise.
Likewise, Kanter amassed copious teammates during his NBA tenure. The list from the Jazz alone is full of players noted as quality teammates: Raja Bell, DeMarre Carroll, Derrick Favors, Paul Millsap, Earl Watson, Jamaal Tinsley, Mo Williams, Richard Jefferson, and Marvin Williams
Kanter's praises Westbrook as the best player he's played with based on Russell carrying the team on his back after Durant left. That and the sheer force of will he brings to every match. But the song Kanter keeps singing is how Westbrook is by far the best teammate on and off the court. The power forward speaks to how misunderstood Russ is and presumes the media and fans can't imagine this to be true because they don't get to see how Russell interacts off the hardwood.
Recently, Shai Gilgeous-Alexander warned Thunder fans he isn't Russell Westbrook. In an interview with Erik Horne of the Oklahoman SGA stated:
I am not Russell Westbrook. I do not have the same name, same body type, stuff like that…

"I'm just a basketball player. Regardless of the situation, I'm going to continue to work hard and play my game. I know that eventually it will come out. I don't worry about starting. I'm not worried about accolades or things like that. I just work hard, keep my head down and (stay) true to who I am."
The latter part of Gilgeous-Alexander's comments could've been pulled directly from a Westbrook presser. In fact, if you've read what his trainer, coaches, and teammates say SGA also embodies that no quit competitive spirit – he's just a little less demonstrative.
If Shai is to take any lessons from Kanter's comments there are two specific areas to focus on. One is how Russ made everyone around him better. All point guards want to do that but it is the key difference which defines the top stars.
The other would be to emulate the type of teammate Westbrook was while in OKC. And, hey, maybe one day in the future Gilgeous-Alexander will have his own Kanter-like cheerleader. After all, it's kind of cool Russ has his own NBA cheerleader to set the record straight.