Top 10 NBA jerseys of 2019-20 season – where OKC Thunder rank
Reviewing the 2019-20 NBA jerseys finds the OKC Thunder in my personal top 10. Join me as I count down the list and find out where the home team ranks.
The OKC Thunder will have brand new jerseys this upcoming season and tweaks to existing versions. Every team offers a variety of jerseys in season often falling under the categories of Association, City, Statement, and Icon editions. Some teams still feature more than these versions and some clubs elect to stick to three or four jersey editions.
Many teams take the opportunity each season to introduce new jerseys which is fun for fans (not to mention a great revenue source). And, while teams debut new styles others focus on paying homage to an older jersey in franchise history.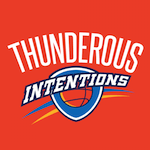 Want your voice heard? Join the Thunderous Intentions team!
Write for us!
With that in mind, I scanned the 2019-20 jerseys seeking to highlight the best ten jerseys. As it turned out the OKC Thunder made the list. Join me as I count down from number ten to number one and find out where my favorite new OKC Thunder jersey lands on the list.
Substance over style is often the continuous abstraction in the NBA. With countless variants of headbands, shoes, and other accessories it has become obligatory for players to have swag on the court. NBA teams have embraced this new standard wholeheartedly by releasing far more attractive jerseys. The OKC Thunder have followed suit.
Again, this is my list of the top 10 jerseys coming into the 2019-2020 NBA season. Please bear in mind that this is purely a subjective list. I invite you to let me know your favorites in the comments section.