OKC Thunder vs. Indiana Pacers, 2019-20 team preview
The Indiana Pacers team owns a gritty no quit identity. Like the OKC Thunder, they enter the 2019-20 season with a significantly different roster. How will the clubs matchup this season?
In spite of Victor Oladipo suffering a terrible injury in game 36 of the 2018-19 season, the Indiana Pacers gutted it out and went on to secure the fifth seed. Although they were ousted in the first round the fact this team maintained their competitiveness without another All-Star on the team speaks to their tenacity and resiliency.
Albeit Myles Turner is a borderline All-Star who continues to improve yearly and with former OKC Thunder big man Domantas Sabonis the Pacers own two of the best young big men in the league.
After Dipo went down many presumed the Pacers would descend into the lottery but Head Coach Nate McMillan gets his teams to play lockdown defense and hustle for 48 minutes regardless of who is on the roster. That translated into a 48 win season for the club and a definitive culture and mindset in place.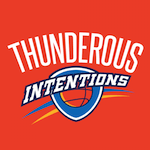 Want your voice heard? Join the Thunderous Intentions team!
Write for us!
The Basics:
2018-19 Record:
Playoff Seed: Fifth seed entering postseason where the Celtics swept them in round one.
Head Coach: Nate McMillan begins his fourth season as the bench boss.
Points per game: Ranked 22nd (108.0) | Opponent points per game: Ranked first (104.7)
Pace: ranked 24th (98.1)  | Offensive Rating: Ranked 18th (109.9) | Defensive Rating: Ranked 3rd (106.5)
Vegas Odds:
Win-Loss: 46.5 games
Odds to NBA Title: +4404
Odds to Win Conference: +1435
* Odds courtesy of The Action Network.
The OKC Thunder split the regular-season series against the Pacers. Next up, let's look at the offseason changes made by the Pacers and review what to expect when the team's tipoff versus each other in their two contests.