Week 1 NBA Power Ranking the roller coaster ride begins
The OKC Thunder was ultra competitive in the opening week displaying defensive prowess. Let's see where they rank in week one power rankings.
Oh, the start of the NBA season is so much fun. It's the time when every single team in the association believes they can make the playoffs and are playing with that determination and fearlessness. The OKC Thunder is one of 30 teams who believe they'll make the playoffs and as competitors you want your team believing that's possible.
Yet, the reality is they'll be teams who'll end up getting the majority of those lottery ping pong balls but for the moment are playing lights out. Conversely, they'll be squads who end up in the mix at the end but have stumbled out of the gate.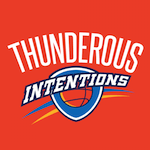 Want your voice heard? Join the Thunderous Intentions team!
Write for us!
A few top line items to address:
Flopping is out of control through the initial games this season. Fans have witnessed more flopping in the first week of the season than we did in entire months last season. The league needs to clean this up and reinstitute the fines because games are being lost on players not being able to defend so they just fall down, or running into another player and flailing their arms like they've been shot. The problem is more often than not they're getting the calls.
Through the early games, Head Coaches are using the new coaches' challenge mostly to ill effect. Since teams only get to use one challenge doesn't it seem reasonable to keep it until game end? Why aren't the coaches saving the challenge for a pivotal moment in the last quarter? So far, a lot of coaches are using them early in matches which doesn't make sense.
Traveling and push offs were cited as something refs were supposed to be locking down on again this season but through the opening games, the results have been inconsistent. We're still seeing players like LeBron James and James Harden being allowed to push off but the refs are calling their opponents. Maybe one day we'll get consistency across the board.
With that I give you the opening week of power rankings with the caveat the second week will be out sooner next week.