OKC Thunder use defense to dismantle the Jazz in Utah – player grades
Playing out the second night of a road back-to-back set the OKC Thunder explode in the second half to blowout the Utah Jazz. Player grades serve up the goods.
After a promising start to the road trip last night in Portland, the OKC Thunder one-upped themselves and won again tonight. On the second night of a difficult back-to-back, OKC used a suffocating defensive effort to topple the Jazz in Utah.
The first half was a back and forth affair with the teams trading multiple leads throughout. Utah was down starting guard Mike Conley and the Thunder were without Terrance Ferguson and Danilo Gallinari, so both teams were far from full strength.
As the teams felt each other out for the first half, Dennis Schroder and the Thunder bench started to get things going. All in all, the OKC Thunder lead by 4 going into the halftime break.
Final

104

90
Oklahoma  City came out of the break playing like their collective hair was on fire. The Thunder blitzed the Jazz with a smothering defense as their offense got hot. Schroder and CP3 led a strong offensive effort as OKC held Utah without a field goal for the final 5 minutes of the third quarter as the lead swelled to 17 going into the final frame.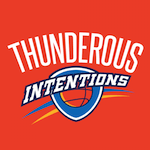 Want your voice heard? Join the Thunderous Intentions team!
Write for us!
The Thunder fought off a few small Jazz runs but ultimately put this game away by a score of 104-90. This win is an impressive win because Utah has been lauded as a title contender coming into this season, and the rebuilding Thunder came in and smacked them on the second night of a road back-to-back.
What a fun one tonight! Let's head to some player grades.