OKC Thunder team by team primer of players eligible for trade as of December 15
Now that the calendar has passed December 15th a host of players become eligible for trade. OKC Thunder GM will be pouring over a similar list to this full primer of newly trade eligible players.
After the Russell Westbrook trade to the Houston Rockets for Chris Paul and draft picks the OKC Thunder has laid low in terms of roster tweaks. Then again, virtually every team has been in the on hold position since this trade.
That's because almost a third of the NBA talent switched teams this past summer either through free agency or trades. And, per the Collective Bargaining Agreement restrictions apply to new signings which means teams can't trade those new additions.
The waiting period is a minimum of three months (or at the earliest December 15th). Not all players will be eligible to be traded as of today but those are the exceptions rather than the rule.
Those exceptions apply to just under 60 players and fall into three areas: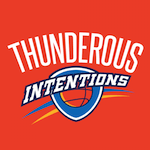 Want your voice heard? Join the Thunderous Intentions team!
Write for us!
Poison Pill Contract explanation:
*Poison Pill contracts typically the rookie extension of a player. Since the initial contracts for rookies are much less these extensions are dramatically higher. For example, Pascal Siakam is earning $2,35 million this season, but next year when his extension kicks in he'll earn $29 million and the total value of his four-year extension is $129.9 million.
All trades have to recognize equivalent salaries switching sides but the poison pill complicates the situation. So, the Raptors would be sending out Siakam at his $2.35 million valuation, but the receiving team would value him at $29.3 M (an average of his 4-year deal plus this season divided by the 5-years of his salary).
In other words, there would be a $26 million discrepancy between teams on Siakam's valuation for trade matching purposes. Ultimately the poison pill makes a trade virtually impossible, the reality is these types of deals occur with a player the team typically expects to keep for the long term and as part of their core so they are the "untouchables" on your squad if you will.
This will likely be the scenario Shai Gilgeous-Alexander finds himself in next fall when Presti negotiates his extension. Shai would still be earning his rookie scale and then the following season will take a massive jump in salary.
Team by team players now available for trade:
Of note – players who can approve contracts are noted, as are poison pill contracts and any player who won't be eligible on December 15th but will prior to the trade deadline is noted with the specific tradeable date.
Atlantic Division:
Boston Celtics:
Brooklyn Nets:
New York Knicks
Philadelphia 76ers
Toronto Raptors
Southeast Divison:
Atlanta Hawks:
Charlotte Hornets:
Miami Heat:
Orlando Magic:
Washington Wizards:
Central Division:
Chicago Bulls:
Detroit Pistons:
Indiana Pacers
Milwaukee Bucks
Pacific Division:
Golden State Warriors
LA Clippers
Los Angeles Lakers
Phoenix Suns
Sacramento Kings
Southwest Division:
Dallas Mavericks
Houston Rockets
Memphis Grizzlies
New Orleans Pelicans
San Antonio Spurs
Northwest Division:
Denver Nuggets
Minnesota Timberwolves
OKC Thunder
Portland Trail Blazers
Utah Jazz
There you have it. That brings you up to speed on the newly available players for trade, ones who'll be available shortly, poison pill contracted players and those individuals who have the right to veto any deal.
In the coming days and weeks, we'll dive in more deeply to potential trades Sam Presti may consider and teams who may be reaching out to the OKC Thunder for players to add to their roster.