OKC Thunder escape Zion and the Pelicans in New Orleans: grades
The OKC Thunder wins its final game before the All-Star break, as they defeat a very talented New Orleans Pelicans team.
After losing their last two games in frustrating fashion, the OKC Thunder needed a feel good win going into the All-Star break to feel better about themselves. Thankfully the team got what it was looking for tonight, as they held on to beat the young Pelicans on the road.
The game started out back and forth as both teams quickly found their offensive rhythm. Danilo Gallinari was a scoring machine tonight, as he led a balanced OKC attack that started out strong in the opening period. New Orleans, however, was just as good in the first as they lead by one point going into the second frame.
Dennis Schroder really got things going early on in the second period. His offensive spark off of the bench provided a nice jolt as the OKC Thunder extended a nice lead as the half closed. Zion Williamson was as good as advertised this evening, as he kept his team in this game all night with his relentless athleticism. The Thunder led by 8 going into the half thanks to a ridiculous half court heave shot from Steven Adams.
Final

123

118
The second half was more of the same, as the offense kept humming for the OKC Thunder. At one point in the third, they lead by as many as 13 points, seemingly looking to run away with this game. New Orleans had other ideas, as they made a run of their own to cut the lead to 5 going into the final quarter of play.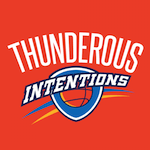 Want your voice heard? Join the Thunderous Intentions team!
Write for us!
Zion became frightening early on in this quarter as he quickly matched his career-high in points at 31 just minutes into the 4th. The energy was on the Pelicans side until the steady and methodical OKC offense hit timely shots and won this game in crunch time, as they have done all year long.
Now we head for a much needed break for all NBA teams. Hopefully, you all enjoy All-Star weekend and we have some exciting events. On to player grades.