OKC Thunder: NBA Draft stock report ahead of conference tournaments
The NCAA March Madness Tournament is right around the corner, but first, it is time for the conference tournaments. With OKC Thunder holding two picks, who should you be looking at this week?
It is time for another OKC Thunder NBA Draft stock report, and unlike the actual stock market, the NBA Draft stock reports are trending up this week. We are set for the conference tournaments to heat up, and that means productivity around your offense is going to start trending down.
As games tip-off at 11 a.m. central time from now until April for the most part, there will not be a lot of college basketball downtime. Stay tuned to TI, and follow on Twitter to get instant analysis on the sports top prospects as they go through the postseason.  Especially for news on potential OKC Thunder picks.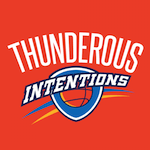 Want your voice heard? Join the Thunderous Intentions team!
Write for us!
The Major Conference tournaments get underway today, with the ACC, headlined by blue blood North Carolina, tips off at 6 p.m. for the second game of the ACC tournament slate. The PAC-12 joins the action on Wednesday, along with the Big 12, Big 10, and SEC.
The regular season ended on Sunday, and it is time to take a look at who is finished the season on an uptick, or a downtick.
Let's start negative, like the actual stock market.
Stock Down: Jordan Nwora, Lousiville, picked 20th in my Mock Draft
Jordan Nwora has been awesome to watch for this entire season, and I would love to see him in an OKC Thunder uniform and still believe he is a first-round pick.
This is just a tiny downturn for Nwora heading into the ACC tournament. While he averaged 18 points, seven rebounds, and an assist with 40 percent shooting from deep, he still has a lot to prove in this tournament.
His Louisville squad has not been able to win very many big games this year, despite their record. While Jordan Nwora himself has turned in some good numbers, against tough competition many evaluators just want to see more from him.
He is one of my favorite prospects in this year's NBA Draft, and he will get his swing at the top dogs in the ACC yet again. His week will get started on Thursday when he takes on the winner of Syracuse vs UNC/VT. On his side of the bracket, if the Cardinals advance, they must go through one of the toughest, grind it out defensive schemes in the country with Virginia looming.
This is a huge week for Nwora to prove who he is against tough competition, and finalize his draft position as a first-round lock.