OKC Thunder: Re-grading the Steven Adams 2013 draft pick
The OKC Thunder spent a lottery pick in the 2013 NBA Draft on big man Steven Adams. Re-grading that selection, let's examine how the pick panned out?
As we continue to re-grade every OKC Thunder draft pick since 2011, we have already knocked out Terrance Ferguson, Reggie Jackson, Perry Jones, and Mitch McGary. Now it is time to go to the year 2013.
Fresh off of trading away James Harden, the OKC Thunder got back what would eventually be the only valuable asset from that trade. Of course, I am talking about Steven Adams.
As always, we need a jumping-off point. How can you re-grade something without an initial grade? In the case of Steven Adams, I once again agreed with Sam Presti.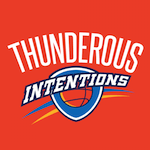 Want your voice heard? Join the Thunderous Intentions team!
Write for us!
I would love to say that even in the moment, I hated the Adams pick because how could you pass up on Giannis Antetokounmpo?! I was more of a Tim Hardaway guy, myself. Sam Presti absolutely cleaned up in the 2013 NBA Draft.
Outside of missing on Giannis, which 14 other clubs did as well, Presti not only drafted Steven Adams with the 12th pick, but traded for Andre Roberson in the back end of the first round, and with a top second-round pick snagged Alex Abrines.
Being a big fan of the Pitt basketball program, I loved the pick. I graded this move at a solid B+ only because there were still a ton of unknowns about Adams.
The big miss is obvious, Greek Freak. However, there is a reason he fell in the draft. He entered the draft around 6'9, and literally filled out his body post-draft. He also played against poor competition in his overseas league. There were a ton of red flags. For the Bucks, sometimes it is better to be lucky than good.
Beyond that, you would be hard-pressed to find another miss. Rudy Gobert? Sure, he is a Defensive Player of the Year, All-Star, and an All-Defensive team player, but I think I would still rather have Adams.
Adams has a much better offensive game, especially in 2020, while still being able to anchor the defense.
Credit to Sam Presti, he only missed on maybe two guys, but I would really say he only missed on one guy, and that, of course, is the MVP of the league.
2013 might go down as one of the worst drafts of all-time. In a re-draft, Steven Adams goes even higher than 12. Safe to say, the pick paid off.
Despite being one of the worst draft classes ever, it features seven current or former OKC Thunder players.