OKC Thunder: 3 reasons why James Bouknight is the right pick
The OKC Thunder own the sixth pick in the 2021 NBA Draft. This marks their first top ten pick since 2009 when the franchise chose James Harden with the third overall pick. As was such at three in that draft, the Thunder have a ton of pressure on them to nail this draft pick, and a lot of options are being rumored.
The most recent rumor is Uconn Guard James Bouknight. Kevin O'Connor of The Ringer, Jeremy Woo of Sports Illustrated, and now Bleacher Report have all recently tied the Thunder to this bonafide bucket getter. This tracks, with rumors of a workout and dinner with Thunder GM Sam Presti, and head coach Mark Daigneault. Bouknight, Presti, and Daigneault have a special connection with the trio attending high school in Massachusetts.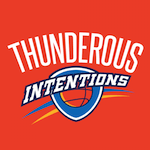 Want your voice heard? Join the Thunderous Intentions team!
Write for us!
Mark Daigneault and James Bouknight's connection runs deeper, each taking a stop at Uconn in the early stages of their careers. For Daigneault, being a student manager of the Huskies on his rise to becoming the youngest head man in the NBA, and for Bouknight a couple of seasons of pouring in buckets for Uconn.
Barring something crazy on draft night such as Presti pulling a rabbit out of his hat and trading up, or Jalen Suggs taking a dip in draft stock dropping to sixth, James Bouknight is the way to go.
Despite being 21 years old when his rookie season tip's off, Bouknight has plenty of upside. The potential top ten pick did not start playing basketball until middle school, playing baseball from an early age before making the switch.
The OKC Thunder lack a secondary go-to scorer as we saw a year ago, Bouknight would certainly give the Thunder a boost offensively.
Sure, there are red flags for some regarding Bouknight's lack of playmaking, increased turnovers, and shooting percentages. From the box score view, those are all fair criticisms. It is important to note that there are no perfect prospects, especially at six, and James Bouknight checks more boxes than he leaves empty.
The soon to be 21 year old had no teammates alongside him that project to have draftable NBA grades on them, yet he still carried that Huskies offense. While being double-teamed during his 27.8-percentage usage rate. With better spacing, better teammates around him, and not being asked to be a point guard the turnover numbers will naturally come down.
His lack of assists has been a big talking point for OKC Thunder fans, but as he mentioned during his NBA Combine Interview, he feels it is an underrated aspect of his game. While there is a slim to none chance Bouknight ever becomes an NBA point guard, it isn't as if he can not disrupt the ball as a secondary creator.