3 bold predictions for OKC Thunder summer league
The OKC Thunder get their NBA Summer League action underway tonight, taking on Cade Cunningham and the Pistons. It is the start of at least a five-game stretch that will be cause for overreactions, bold predictions, and labels placed prematurely on players. Sounds fun right?
After examining what to watch for at NBA Summer League, it is time to make our bold predictions for the Thunder summer event.
3 bold predictions for the OKC Thunder Summer League
The Oklahoma City Thunder have a fun Summer League Roster, which is a bit rare. With four NBA rookies who will be on their active NBA roster, plus their MPG leader from a year ago Theo Maledon, in addition to Jaylen Hoard and Josh Hall who logged minutes a year ago in Bricktown, there are plenty of storylines.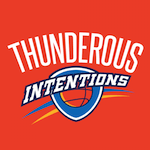 Want your voice heard? Join the Thunderous Intentions team!
Write for us!
Three bold predictions
Josh Giddey will log a triple-double
The Australian native who dominated in the NBL this past year, taking home rookie of the year honors, is now getting his first glimpse of NBA basketball.
With his incredible playmaking, great size to pull in rebounds, and scoring ability, Giddey compiles plenty of triple-doubles.
A year ago, he averaged 11-points, seven rebounds, and seven assists per contest. He even became the first Australian in NBL history to post back-to-back triple-doubles.
Facing off with the Summer League competition, I think the 18-year-old will at least get one triple-double for Grant Gibbs squad.
Josh Giddey will shoot better than 30-percent from three
Yup, another Josh Giddey prediction! This one, maybe even more out there than getting a triple-double? Which is just wild to say. I think when all is said and done, Giddey will shoot the trey ball at a better clip than he did in the NBL during this summer sample.
Tre Mann will lead the team in scoring
Tre Mann is one of the rookies I am most excited to see translate to the NBA in this entire draft class. Is it possible that his level of shot-creation and shooting ability can carry over to the association?
I think Mann will be a player who gets borderline unfair expectations due to his offensive outburst projected during the summer league.
With Grant Gibbs likely giving Mann and Giddey a ton of run, I would expect Mann's distant shooting and iso-scoring to be enough to earn him the point per game leader when the team heads back to Oklahoma City.
What are your bold predictions for NBA Summer League?