Views from OKC: It's time to move on from the KD era
Welcome to Views from OKC, Thunderous Intentions' daily roundup of the best OKC Thunder stories across the web.
New to Views? Glad to have you here, and I hope you'll make this a daily destination. Well, let's get started!
"The constant disconnect on the court with the Thunder, particularly on the offensive end, began to wear on Durant mentally as early as their second season together, league sources told ESPN. Throughout his OKC tenure, Durant asked for more ball movement. At times, it looked like the Thunder might have turned the corner, but it was never sustained."
When I first read this headline I was not happy. But dang this makes sense. I still love Russell Westbrook saying "I'm coming, I'm coming" but the meaning behind it scares me. It's kinda like the "Now I do what I want" video. Russ feels entitled, that he can single-handedly do everything on the basketball court. Sometimes he can. But that's not a recipe for success in today's NBA.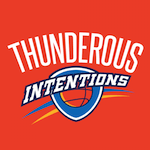 Want your voice heard? Join the Thunderous Intentions team!
Write for us!
"Kevin Durant's much-anticipated return to Oklahoma City on Saturday night was more eventful because of the drama before the game rather than what happened on the court, as the Golden State Warriors dominated the Thunder in a 130-114 victory at Chesapeake Energy Arena."
I'm proud of our guys. When you take the best player off one team and put him on the other, mismatches tend to happen. Especially when the receiving team already was a historically great team. Kevin Durant ruined what could have been a great rivalry and for that I can't forgive him.
Views from Twitter
https://twitter.com/thefanaticsview/status/830631332384559104
Andre Roberson is my freaking hero.
Let's build this man a statue right this instant.