Russell Westbrook is winning the NBA offseason
Contrary to popular belief, there's more to life than basketball for NBA players. Russell Westbrook has spent the entire offseason proving why that's the case.
We care about/worship NBA athletes for one thing and one thing only: their ability to make magic on the basketball court. We may discover other attributes to connect with them, but basketball is where we are introduced. Throw out their incredible athletic ability and there's a good chance we wouldn't hear from these players at all.
That isn't the case with the 2016-2017 NBA MVP.
Russell Westbrook lives by the mantra "Why Not?" Whether it's basketball, family life or fashion, Westbrook goes full throttle in everything he does. That slogan is what makes Russell Westbrook, Russell Westbrook.
This past season was Russ' first opportunity to show the world who he truly was. Unlike his former superstar partner Kevin Durant, Westbrook wasn't seen as a sure thing coming out of the Draft. After one season Durant had already solidified his place in the league – Russ was expected to be the defensive sidekick.
When the Thunder failed, Russ got the blame from both the media and the fans. He didn't complain – he simply kept working on his game. Once Durant left, the attention turned to him once again. People said he chased Durant out of OKC with his style of play, then hypothesized if he could do the unthinkable and average a triple-double for an entire season. That in itself shows the enigma that is Russell Westbrook:
Westbrook is critiqued for everything that happens surrounding the Thunder, but those critics still are infatuated by his style of play.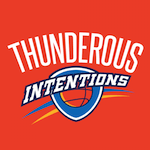 Want your voice heard? Join the Thunderous Intentions team!
Write for us!
The thing is, unlike most professional athletes, Westbrook has fans outside the basketball world. The 28-year old is a fashion icon – he has a book coming out later this month and has appeared in Paris, New York, Los Angeles and many other cities for their respective fashion weeks. Westbrook's wooed people over with personal singing videos on his Snapchat and Instagram pages. He's shown how important his family is to him:
With KD gone, Russ finally had the opportunity to change the way the public saw him. That's exactly what happened.
For the first time ever Westbrook was top five in jersey sales around the league. He beat out Durant as the rookie classes' second-most favorite player in the league. Russ didn't just show off on the court – he built a brand as the fiery competitor on the court and relaxed, happy-go-lucky man off it.
Russell Westbrook made history this past season, but it's the offseason where he's truly winning. Throw out all the awards (except his emotional MVP speech), the Paul George acquisition and the potential record-breaking contract – those are inconsequential when we talk about Russ' evolution as a public figure.
Instead of seeing Westbrook as the guy that drove out KD because of his hardheadedness, they see him as the polarizing point guard who's having fun with his life. We see the man who hangs out with his new baby boy in between workouts, not the actual workouts. The basketball debates will never end, but nobody can question whether or not Westbrook is living his best life.
Believe it or not, basketball players do more with their life than the game. Russell Westbrook has proven that. You don't have to like Westbrook the player, but denying him a spot as one of the NBA's most interesting players off-the-court would be foolish.
Could I say that one year ago before KD left? Not a chance.