Ranking OKC Thunder top 50 dunks in franchise history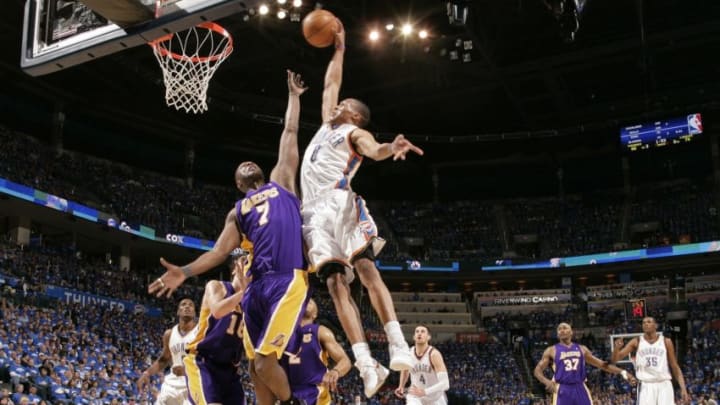 Russell Westbrook, OKC Thunder (Photo by Nathaniel S. Butler/NBAE via Getty Images) /
Kevin Durant, OKC Thunder. (Photo by Noah Graham/NBAE via Getty Images) /
In the decade of OKC Thunder existence the squad has amassed a myriad of rim rockers. TI dove in and compiled a list ranking the top 50 dunks in history.
There's almost nothing more exciting that can happen in a basketball game than one person dunking on someone else. Sure, deep three's and buzzer beaters are fun in their own right, but in terms of pure fun, dunks are unparalleled. And the OKC Thunder have had their fair share of huge dunks over the years.
That's partially by design. Longtime GM, Sam Presti, has made a point of acquiring long athletes who can make big plays around the rim. Let's also not forget they have one of the most exciting dunkers in the NBA in Russell Westbrook who accounts for an unsettling amount of dunks on this list.
But like most dunks, it's largely due to sheer luck. You can't predict when someone like Dion Waiters or even Andre Roberson is going to have an incredible dunk. It's random. That's what makes dunks–and this list–so fun. You can never tell when they're going to happen or really who's going to have a big one.
Without further ado, here are the top 50 dunks in OKC Thunder history.