Charania: Heat renew interest in trading for OKC Thunder point guard Chris Paul
As per The Athletic's Shams Charania, the Miami Heat have renewed their interest in signing OKC Thunder point guard Chris Paul
When the OKC Thunder traded Russell Westbrook to the Houston Rockets the return for the superstar included Chris Paul with copious draft picks and swaps.
On one hand, OKC was rewarding Westbrook for his loyalty and full out effort in his 11 seasons with the Thunder. On the other hand, with Paul George forcing the situation and the franchise not wanting to operate as a perennial luxury tax team so it also made sense to move Russ and a contract with four years and $171 million remaining.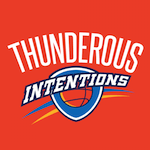 Want your voice heard? Join the Thunderous Intentions team!
Write for us!
Remaining Westbrook contract:
2019-20: $38,506,482
2020-21: $41,358,814
2021-22: $44,211,146
2022-23: $47,063,478
Total: $171,139,920
With the Rockets needing to match salaries in order to validate the deal it meant either trading multiple assets (Eric Gordon, Clint Capela, and more) or one large equal value contract. Given Houston's goal was to form a new starting backcourt of Westbrook and James Harden, the obvious player they wanted to move was Chris Paul.
No doubt, the rumored conflict between Harden and CP3 fueled why Houston was so anxious to make the deal.
Like Westbrook, Paul's contract is an albatross with three years and $124 guaranteed salary remaining.
Remaining Paul contract:
2019-20: $38,506,482
2020-21: $41,358,814
2021-22: $44,211,146
Total: $124,076,442
Paul's contract is a year shorter and a bit over $47 million less than Westbrook's but he has four years on Russ and a history of injuries having played an average of 59 games in each of the last three seasons.
Like Westbrook, CP3 plays with a chip on his shoulder and aggression. On top of hating to lose, Paul is going to want to showcase his value to contenders.
In mid-November, Westbrook turns 31 while Paul will turn 35 in May. The Brodie experienced a tough season with regression in his shooting efficiency in all areas of the court. However, Westbrook is such a creature of habit the copious changes to his normal routine likely played a role in his shooting issues. And, while Russ has never been a particularly great 3-point shooter there is an equal reason to believe he'll get better shot opportunities in Houston with the free-flowing offense and well spaced floor
Initially, the team thought they might be able to move the veteran guard this summer but quality offers weren't rolling in. The one franchise thought to have interest was the Miami Heat but they wanted too much in return including the return of their 2021 and 2023 draft picks obtained from Houston. Moreover, reports indicated Pat Riley was more interested in Westbrook so the talks peetered off.
Given those dynamics, the OKC Thunder are set to start the season with CP3 in the starting point guard role and navigate the season in a "wait and see" mode. Expectations were contending teams needing an upgrade at the point or suffering an unfortunate loss of a guard due to injury who neared the trade deadline could foster interest.
As of today Shams Charania of the paid-for subscription The Athletic is reporting the Heat have renewed their interest. Still, it's not expected any knee-jerk actions will occur and both clubs will proceed with the rosters they have but this is definitely something to keep in mind moving forward.
Tomorrow Thunderous Intentions will offer up some potential packages which could occur if this deal comes to pass.