Top three story lines of the upcoming NBA Draft
The NBA Draft is right around the corner, and as we get into the second half of the college and overseas seasons, what are the top storylines around this year's prospects?
I can not believe it. We are already at the halfway point of the NBA season. Where has the time gone? With a ton of interesting storylines not only around the NBA but specifically within the OKC Thunder ecosystem, so I understand the hesitation to dive right in the 2020 NBA Draft already. However, with potentially two NBA Draft picks in this year's draft, this is still going to be a huge piece of the team's offseason.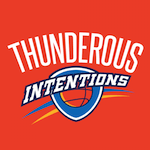 Want your voice heard? Join the Thunderous Intentions team!
Write for us!
If the season ended today, the OKC Thunder would be a surprise playoff team that would be a force in the first round that no one wants to match up against. A tough out at the least, and a spunky young team mixed with grizzled veterans who are still getting it done on the floor.
In terms of NBA Draft position, if the season ended today, the OKC Thunder own their own pick at 18 (but would lose the pick if it falls to the 21st pick). The Thunder would also own the right to the Denver Nuggets draft pick that right now is tied for the 25th slot in the draft.
The only way the Nuggets pick, which was picked up in the Jerami Grant trade, doesn't convey to the OKC Thunder is if the Nugs finish top ten which is almost impossible at this point.
So as the college and overseas seasons begin to turn the corner and come to a close, and prospects begin preparing for the 2020 NBA Draft, what are the biggest storylines to answer prior to the June 25th event?