OKC Thunder trade acquisition Isaiah Roby has major upside
The OKC Thunder made their first move of the trade deadline season, by acquiring Isaiah Roby from the Dallas Mavericks. Will it be their last move?
And here we go…The OKC Thunder have made their first move during this NBA Trade deadline season. While it was not shipping off every talented player and stripping this team down for scraps as we once thought prior to the season, it was an interesting move.
The Thunder dealt Justin Patton (and cash) to the Dallas Mavericks and got back the Mavs second-round pick from the 2019 draft, Isaiah Roby.
This move will not make headlines, and will not send shockwaves through the NBA as Sam Presti is known to do. However, it is still a very interesting trade. Obviously sending away a still young Justin Patton and cash is interesting on its own.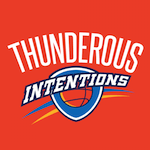 Want your voice heard? Join the Thunderous Intentions team!
Write for us!
Patton has played very well for the OKC Blue, and a lot of fans and media alike have noted his upside. He just has not been able to crack it at the NBA level. In turn, the OKC Thunder gets a break on the luxury tax and a high upside project in Isaiah Roby.
The Dallas Mavericks have already waived Patton to open up a roster spot for the trade with the Warriors that netted them Willie Cauley-Stein in exchange for a second-round pick (Utah's 2020).
For the OKC Thunder, you get a guy in Isaiah Roby who has so much upside and potential that he was a highly coveted second-round pick, which is an odd sentence to write. It is true though, a lot of teams were in on taking a second-round flyer on the upstart Roby.
The Dallas Mavericks spent the 15th pick in the second round on the 21-year-old. In his third season at Nebraska, Roby averaged 11 points, seven rebounds, and two assists while shooting the ball at a 33 percent clip from deep.
The Mavericks were so high on him they gave Roby a record-setting deal this August, inking the wing to a four year 6.7 million dollar deal. However, of these four years, only the first two years are guaranteed (2020 and 2021). For context, Roby is making more than Jalen Brunson this year.
Roby has yet to make his NBA debut, but he stands 6'8 while weighing 230 pounds, and his upside can not be overstated. While he probably will not flash that potential this season, Roby is a guy to keep an eye on at the Cox Convention Center as he is playing for the OKC Blue. My guess is he also plays for the Summer Thunder and comes out next year in that Abdel Nader role in terms of minutes earned.
So far in 21 G-League games, Roby has posted 9.2 points, seven rebounds, and almost two assists while blocking a shot and getting a seal on the defensive end. His three-point shooting has increased since his best college year to 35 percent. His best games were a pair of double-doubles against the Iowa Wolves and the Memphis Hustle.
In summary, I think this is a great move for OKC. The Thunder saves some money on the Luxury Tax and also gets a player with more upside than the 22-year-old Patton.