The party is over and OKC Thunder did not change a thing
The OKC Thunder has seen the NBA Trade Deadline come and go and did not make a single move. What does this mean?
In sports, we love the transactions. We almost love the transactions more than the games themselves. It doesn't matter what the transaction is, we will blow up NBA Twitter with instant reaction, guessing, and analysis. Fans just want something to discuss. This is evident around the NBA Trade Deadline every year.
Folks on your Twitter timeline who haven't talked about basketball all year come out of hiding to react to Woj bombs. The NBA media spends more time after the Trade Deadline discussing how these moves impact the offseason, and beyond more so than the here and now.
We can't help ourselves, we love transactions. So when the OKC Thunder elected to stand pat, some fans were not too happy.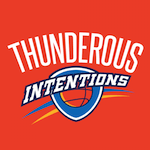 Want your voice heard? Join the Thunderous Intentions team!
Write for us!
However, the lack of moves is a good thing for the OKC Thunder. As we have preached all week long at TI, there was almost no bad decision for Sam Presti. After a potential three-team deal that would've seen the OKC Thunder shipping Danilo Gallinari to South Beach fell through, nothing more materialized.
This NBA Trade Deadline for the OKC Thunder reminds me of the old Hannah Montana song "Best of both worlds."  Sure, we do not have transactions to discuss right now. From a content creation standpoint, sure that sucks. But, from a basketball perspective, this was the best option.
This core, which has overachieved and still has a chance *clears throat* to host an NBA Playoff Series, gets to play out the string of this season. They get to see how far this core can go. Can they be anything more than just a tough out in the first round of the Western Conference Playoffs?
After the season is over, no matter how it ends the OKC Thunder still has a ton of tradable assets. The only contract that expires for the Thunder is sharpshooter Danilo Gallinari. Gallo is a prime sign-and-trade candidate. That still nets you back the same amount of assets, if not more in the offseason.
Steven Adams and Dennis Schroder are both going to be expiring deals after this season. They did not need to trade either one of these players right now. You still have time to get something for these guys, while enjoying the wild and fun ride that has been the 2019-20 season.
And of course, CP3 fits in here somewhere but he was never going to be traded at the NBA Deadline this season.
This OKC Thunder team is one of the most exciting and fun teams in the organization's luxurious history here in Loud City. That is an impressive feat for a team to accomplish with an organization that has seen a ton of success.
So instead of breaking that up, Sam Presti kept the gang together to see exactly how far this cinderella story can go. That is the perfect play in this situation. There will be no "what if they would've kept that 2020 team together?" we will see what will happen.
Plus it did not cost you any assets. The Thunder will not lose Gallo without a return, I promise. Sam Presti does not hold on to him if he does not (without question) believe he will be able to sign-and-trade the Italian sharpshooter.
One last nugget on the topic of standing pat, the OKC Thunder are still over the tax. Yes, it is possible for them to still dodge it, but if they do dip under the tax it will not be via them offloading assets to get there.
Clay Bennet and the ownership group deserve the credit for this. A ton of other organizations would've done anything needed to dip under the tax bill after Russell Westbrook and Paul George demanded a trade.
If you are still thirsty for that ever-elusive transactions high, there is always the buy-out market.