Heat eyes Danilo Gallinari: Rumor versus best OKC Thunder deal
The OKC Thunder and Miami Heat are trying to make a trade work before the 3 p.m. deadline this afternoon, but what is considered a success?
Earlier this week, I told you this would be a trying time for OKC Thunder fans. With rumors swirling left and right, your heart racing over tall men who have no idea who you are but can put a ball into a hoop well, and you have no control over it.
You are stuck at the mercy of an Adrian Wojnarowski twitter notification that could come at any moment. Living in fear to do anything in the event you could miss that precious ding. Your only sanctuary is that this will all be over soon. In a matter of hours, the dust will settle.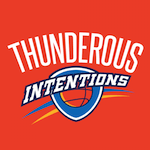 Want your voice heard? Join the Thunderous Intentions team!
Write for us!
I am writing this article close to midnight, Thunder time, and I tremble with fear glancing up at the monitor that sits above my laptop with tweet deck open. Scared that all this typing will be for not, and lost in the deep dark painful archives with all the other articles I was just too slow to write before the dreaded Woj bomb came crashing down to alter my reality.
Here is hoping you are able to read this article, for if it is published I have escaped the grip of the grim reaper of NBA news long enough to see the payoff of this article.
The news we are waiting on pins and needles for? The incoming Danilo Gallinari trade. The sharpshooting Italian forward that has stolen the hearts of everyone in the heartland, is on the move.
Right now the all-powerful Woj has passed his news along to us commoners that the Miami Heat are looking to land Gallo. Yes, even after grabbing Andre Iguodala, the Godfather Pat Riley wants more. He wants to snap his fingers, Thanos style, and have the Eastern Conference bending the knee to him once again. How can a team that came into the 2019 offseason with no money, and no direction enter the 2020 home stretch with Iggy, Gallo, and oh yeah Jimmy Butler?
Woj said this trade would come via a three-team deal to tack on to the Iggy-Justice Winslow swap.
It seems destined that Danilo Gallinari is shipped off to South Beach. I mean, how often is Woj wrong?