OKC Thunder: What can LiAngelo Ball bring to the OKC Blue?
LiAngelo Ball has signed with the OKC Blue, so what are his strengths and weaknesses, and can he help the OKC Thunder?
What a time to be an OKC Thunder fan, huh? We once thought, after the OKC Thunder traded off their three best players from last year's squad for historic NBA Draft assets, that this team would enter tank mode.
That we would be talking about a different Ball brother, LaMelo, at this time of the year. Instead, the Thunder are ahead of the Houston Rockets in the standings and are inching closer to taking home-court advantage in the upcoming NBA postseason.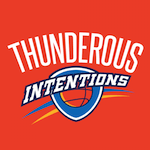 Want your voice heard? Join the Thunderous Intentions team!
Write for us!
It was made official today via the organization, but we have known for almost a week, that LiAngelo Ball would land in Bricktown. He has been practicing with the OKC Blue since December, and now he will get to see some game action down the stretch for the OKC Thunder G-League affiliate.
LiAngelo Ball comes for a long line of ballers…okay, I could not resist, but his family does have basketball talent, love, or hate them. Lonzo Ball is playing very well in his new Pelicans uniform, and LaMelo Ball is expected to be a top-three pick in the upcoming 2020 NBA Draft.
Right or wrong, a big reason for the hatred towards Lonzo, LiAngelo, and LaMelo, has been their father LaVar. He has been loud, outspoken, and frankly a tad annoying to most. A failed clothing brand later, and here we sit. Each Ball brother trending up, and their father on the sidelines taking a bit of a backseat.
However, you can not silence LaVar for long. He proclaims that LiAngelo Ball will become the scoring leader in the NBA "within three years." 
Bold would be an understatement for that prediction, but scoring has never been LiAngelo's problem. Offensively, he actually fits the modern game of basketball perfectly. Overseas, Ball averaged 12.6 points during his short Lithuania stint.
Ball is a 6'5, 230-pound scorer. Unlike his brother Lonzo, LiAngelo actually has a clean shot. His 3-point stroke is an impressive one, and with that frame, the ability to cut to the basket should follow. LaVar Ball is right when he says scoring has never been Gelo's problem.
While his ball-handling could use some work, his offensive game is actually good. The problem comes on the defensive end. As a 6'5 guard, Gelo should be able to play defense better than his film shows. He struggles with effort, and his ability to stay in front of players. He lacks a true anticipation skill.
This is what I will be watching for most when I sit back and watch the OKC Blue for the remainder of the season. How does his defense look? It is common for star players, who feel as if they will be a lock in the NBA Draft, to get too relaxed on defense and only worry about the fun offensive side of the floor.
For the first time in his career, LiAngelo Ball has something to prove. He is fighting for something. Nothing is guaranteed for him anymore, and his competition level is as close to that of the NBA level as you can get. If he still lacks motor and effort on the defensive end he might just end up being a lost cause. While his offensive game is good, is it not good enough for him to be a defensive liability in the NBA.
These final few games in the OKC Blue season will be important for Ball. I am more interested in seeing him this summer, when I assume he will be participating in the Las Vegas NBA Summer League against some of the top prospects in this draft class, a bit of a step up in competition. After the Blue sent out a press release today to announce the signing and the fact he has been practicing with the squad since December he should be ready to go very soon.
The teams' next contest will be March 11th in Stockton, California as the Blue take on the Kings affiliate. That game will tip-off at 9 p.m. CST and be broadcasted on ESPN+. The team will return to Oklahoma City on March 16th, against Sioux Falls at the Cox Convention Center. While I anticipate him playing Wednesday, he should absolutely be in the lineup by the time the OKC Blue returns to Bricktown.
Will LiAngelo Ball ever suit up for the OKC Thunder? Obviously not this season. However, as I mentioned before, this organization does not do anything without a plan or for publicity. They must truly believe in LiAngelo, and his offensive game is NBA ready. If he can play out this stretch of the year and into the summer showing good effort defensively, and a high motor, a two-way contract with OKC should be in his future.
LiAngelo does not need to turn into Andre Roberson defensively, he simply needs to be Alex Abrines on that end of the floor. Stay in front of your opponent and contest the shot, whatever happens, happens. Here is where the plus side comes in for Ball, he has a much better and consistent offensive game than Abrines.
What do you think of the LiAngelo Ball move? Will he ever play in the NBA, or for the Thunder? Are you more interested in the OKC Blue now?