OKC Thunder: Is Obi Toppin the biggest splash in the NBA Draft?
The OKC Thunder and the NBA world focus now on the NBA Draft following the end of the college season. Is Obi Toppin the biggest splash in this year's draft?
No one knows exactly when the NBA Draft will occur in 2020. Really, no one knows much of anything right now. So let's just keep plugging away at these upcoming NBA Draft storylines. We have already discussed the most puzzling prospect, and which prospect is the most overlooked, so let's move to the biggest splash in the draft. This year, the OKC Thunder can make a huge splash on NBA Draft day.
With potentially two picks owned, and a ton of draft capital to move up or make an even bigger trade on draft night. The OKC Thunder have a ton in common with prized prospect Obi Toppin…Splash factor.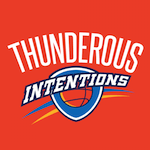 Want your voice heard? Join the Thunderous Intentions team!
Write for us!
It seems like just a few weeks ago I was sitting at my desk typing away about Obi Toppin being in line for a huge upgrade in his draft stock during the NCAA Tournament. Visions of buzzer-beaters, upsets, and dancing running through my mind.
One of the biggest losers from the NCAA tournament getting nixed was Obi Toppin. He could've turned in a run with his Dayton Flyers that propelled his status both within NBA circles and within NBA fan bases. His style of play is conducive to highlights and jaw-dropping plays giving him a built-in fanbase by the time he steps on the floor next season.
He will be able to make up that fanfare in the NBA Summer League (If that will still be a thing), or at the latest, his first high-flying jam in the NBA.
The storyline around him is simply that, outside of LaMelo Ball, no player will get casual fans more excited. That is not to say he is the second-best player in the NBA Draft, for reference in my first Mock Draft I had Toppin slipping to the tenth pick. Believe me, he will be moved up the board in my second mock draft.
Obi Toppin is not the second-best talent in the draft, but he is the second-best splash. LaMelo Ball has the unfair advantage of fans already knowing him and following him throughout his basketball career.
That, of course, is thanks to his dad and brothers. Where Obi Toppin comes in is the fact his splash rating will skyrocket once Adam Silver reads his name off on Draft day. While Anthony Edwards, James Wiseman, and others may be more talented, as fans rush to plug the names into youtube, Obi Toppin's highlights will immediately energize a fanbase.
Diving into Obi Toppins game tape will be fun during his upcoming NBA Draft profile right here on T.I., but no matter what the tale of the tape is, his highlights will immediately make fans think their team just got a splash hit.
What NBA Draft pick would you consider the biggest splash in this year's class?