OKC Thunder: How the NBA Draft process could hurt James Wiseman
The NBA Draft process is going to be vastly different this year, and it could hurt James Wiseman, but help the OKC Thunder.
The NBA Draft process will get absolutely gutted by the global pandemic that is going on in the world right now, and that spells trouble for one of the NBA Draft classes' top prospects. The OKC Thunder could have a pair of picks in the upcoming NBA Draft, and with a top of future draft assets, if a top prize falls Sam Presti could easily swoop in.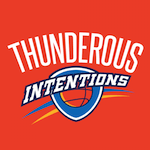 Want your voice heard? Join the Thunderous Intentions team!
Write for us!
Prior to the season starting, James Wiseman was widely considered the top prospect in the upcoming NBA Draft. However, like each prospect, he had a few concerns coming into his freshman season.
Those concerns could've easily been cleared up with some solid college production at an uprise Memphis Tigers program under head coach Penny Hardaway. Three games later, the NCAA took away one of their own biggest attractions due to a recruiting violation between Hardaway and Wiseman. His three-game career with the Tigers was not enough to take away all concerns around his potential career.
Despite the NCAA offering to reinstate James Wiseman for just the small price of 12 thousand dollars that the college student was forced to come up with without outside help and donate it to a charity, it is safe to say that was an empty gesture from the NCAA.
Wiseman instead elected to forego the rest of his freshman year and focus on preparing for his future NBA Career. It seemed smart at the time, because who could've seen this coming? Just a few months later, his NBA Draft stock is left in limbo because of the NCAA's decision.
That does not mean Wiseman will go undrafted, to be clear this change in the NCAA Draft process does not even mean he falls out of the lottery, but the once top pick now could slip to the middle of said lottery.
His biggest questions entering the college ranks were his motor and his effort on the defensive end. While Wiseman probably would not have competed in the NBA Draft combined scrimmages, though due to weird circumstances he is in he might have considered it, possibly losing out on the private team workouts and being able to show off his conditioning to scouts at their own facilities hurts Wiseman.
Again, he will still go within the NBA Draft Lottery, however, with any sort of a fall from grace, going from a consensus first overall pick to maybe 5th or lower, Sam Presti has enough draft assets to move up and snag him if he really loves one of the most talented prospects in this year's class.
It also provides insurance for the OKC Thunder in the case of Steven Adams who will have rumors of a trade swirling around him all offseason long, and into the 2020-21 regular season much as he dealt with this season.
Diving into his game film (be it limited) and Wiseman's entire NBA Draft profile, would it even be worth it for the OKC Thunder to chip away at their mountain of future picks for James Wiseman? Stay tuned for that article right here.
Would you consider giving up NBA Draft assets for James Wiseman if you were Sam Presti?