The time is now for OKC Thunder to extend Billy Donovan
The time is now for an extension between the OKC Thunder and their bench boss Billy Donovan.
It's been over two weeks since that whirlwind of a day in Oklahoma City when the OKC Thunder and Utah Jazz were once set for tip-off before the sports world came crashing down as we know it after a positive COVID-19 test from Jazz big man Rudy Gobert.
Now, we are all experiencing basketball withdraws, and clinging to any sort of news we can to get our sports fix and escape from the dark reality which feels like a simulation gone wrong, that is 2020.
There is no set timeline to look forward to the ball being tipped again, and the longer we are kept wondering, the more real it gets that we might not see the beautiful game of basketball return this year.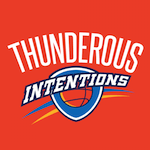 Want your voice heard? Join the Thunderous Intentions team!
Write for us!
On Friday, we got the slightest glimpse of the league returning to normalcy, as the Chicago Bulls search to fill their vacant front office position. Hey, when I said slight, I truly meant a mouse crawling out of the hole in the wall to grab a bread crumb. However, as the league returns to interviewing candidates for positions, and trying to get their ducks in a row, the OKC Thunder can follow suit.
No, it would not take Sam Presti hopping on Zoom, or Skype, and interviewing candidates over the World Wide Web. All it would take is a simple phone call. The OKC Thunder needs to secure their bench boss, Billy Donovan, to a long term deal.
What a full 180 most OKC Thunder fans did on good ole Billy Donovan, huh? It seems like just yesterday our fearless site expert rallied the troops on a warpath to fire Billy Donovan, and you all were on the side of that!… Come on, do not lie. Everyone reading this article wanted Donovan fired. Not to say I told you so, but I told you so. I have said all along this was never the team Billy Donovan signed up to coach, and Sam Presti did him no favors giving him puzzle pieces that not only did not fit together but ignored his messages.
Now, over halfway into this wild season, Donovan has proved his worth and is my favorite for coach of the year.
After Sam Presti picked up the fifth-year option on Billy Donovan last December, we knew 2019-20 would be the final year Donovan is under contract with the team. What we did not know, was the fact Donovan would lead this team so well and truly become a top coach in the league.
While Nick Nurse is the best coach strategically, after seeing an almost full season on Donovan allowed to run his motion offense the way he did in his college days, he is quickly making a name for himself without the superstar ball stoppers. His creativeness of putting three guards on the floor during crunch time, and other examples of how he has changed as a coach other the last year.
There is no question that Donovan has earned the right to return, and there is no question that he will be on the pine in Bricktown next season. In a time of such uncertainty, why not get this contract situation in the past right now, instead of working it out during a scrambled, uncertain and possibly shortened offseason. Come on Sam Presti, at least give us the tiny bit of security.
The OKC Thunder are currently 40-24 and were a win on that Wednesday night away from home-court advantage and were on pace for 50 wins for the first time since Donovan's first year at the helm (2015-16).
Unlike in years past, this team thrives in the clutch, because you have no idea who to focus on. The players deserve a ton of credit, especially veteran Chris Paul, but Donovan throwing out different lineups, and the actions he draws up for different players in the clutch deserves long-overdue credit.
What does a Billy Donovan contract look like? I would sign up for another four-year deal, with a team option for a fifth year, right now. Giving the potential coach of the year a pay increase, and enough long-term security to feel confident in this rebuild. Yes, despite the 2019-20 success, the franchise is still heading for a rebuild despite this incredible fun season.
Are you all-in on Billy Donovan now?