OKC Thunder: Andre Roberson provides injury update hinting at return in 2020
OKC Thunder wing Andre Roberson offers up an injury update, and expected return to play
As if these last few weeks could not get any crazy, how about an Andre Roberson update? Something OKC Thunder fans have clamored for almost every day since his initial injury. What better time than a Global Pandemic to get one?
When Andre Roberson went down with a gruesome knee injury on that 2018 January night in Detriot, we had no idea it would linger through 2020. Especially after Andre Roberson's 2019 media day session, which was dripping in confidence, stating that he was ready to play.
Roberson even went as far as to call himself a "Full-Go." Not even a week into training camp this year, Andre Roberson was back on the shelf. Never to be heard from again, until we found out he took his rehab on the road. He spent some time rehabbing alone in L.A.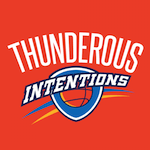 Want your voice heard? Join the Thunderous Intentions team!
Write for us!
Just before the suspension of the season, Andre Roberson rejoined the team to continue his rehab with the organization. The updates, as they commonly are in Oklahoma City, have been vague at best.
This time though, the update source was not head coach Billy Donovan or front office savant Sam Presti, it was the man himself. Andre Roberson went on the "Catching up with the Family" podcast and gave the most information into his rehab that we have ever had.
🗣️ Catching up with the family w/ @Nate_Tomlinson

E2: @FlyDre21
🏔️ First time on campus
🤔 "This or That" Boulder Edition
💦 NBA Draft Drip
🤝 The CU Brotherhood
🏀 Nate vs. Andre 1-on-1, who ya got?

Full Episode ⬇️https://t.co/SGAk2R3I7B

— Colorado Men's Basketball (@CUBuffsMBB) April 17, 2020
Roberson said "I am kinda past the rehab process." adding "I am almost to the point where I should be playing, Honestly."
His story checks out. ARob declared that before the season being suspended he was getting ready to "play in some G-League games, and get ready for the playoffs."
So what does all this mean? Well, there are a ton of different ways to take these quotes.
The most optimistic, but least likely, way to take it is that we will see Andre Roberson playing for the OKC Thunder once the NBA returns in 2020.
However, given the fact that if the season returns it will likely have little-to-no tune-up games, I do not see this happening. Andre Roberson himself said he would've first needed some G-League action to get back into the groove.
One thing is for sure, he will not just magically appear in Loud City and tip off the 2020 NBA Playoffs with the same sort of defensive edge he once had. I am not sure he will ever get that back.
There is also a chance this is just Andre Roberson talking with confidence and nothing at all comes from it. Just as we saw at Media Days. I would guess we do not see Roberson for whatever is left of this season.
I do feel a lot more confident in his ability to play next season based on this injury update. One thing is certain though, even if he can somehow lace 'em up in the postseason this year, do not expect him to be in game shape or have the ability to lock down the league's elite as he once did.
I expect that Andre Roberson doesn't play, the OKC Thunder get a break with his injury hardship, then Roberson re-signs in OKC this offseason close to the league minimum.
What are your expectations for Andre Roberson moving forward?