Ranking OKC Thunder top 5 young players for rebuild mode
The OKC Thunder are about to begin a rebuild, or a retool if you prefer, leaving us to ponder the five youngsters who'll comprise the club's future foundation.
The future is always more popular than the present. In sports, and life. There is a reason one of the most popular questions to ask someone when trying to get to know them is "Where do you see yourself in five years?" For the OKC Thunder that is a loaded question.
There is a reason why the NBA remains popular for 12 months out of the year. Their offseason is unmatched even by the monstrosity that is the NFL, the NBA never has a dull moment. From social media drama, stars wanting out, the biggest name switching teams, and all the fake trades that ESPN's trade machine can handle.
As NBA fans, we almost love the transaction more than we love the reaction to actual games. Traffic on podcasts, articles, tv shows, almost peak when the season is not in session. There is a reason that your favorite outlet for basketball content does a ton of trade scenarios and future outlooks. It has been shown that it is what gets the fans engaged.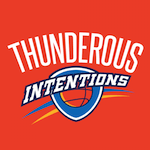 Want your voice heard? Join the Thunderous Intentions team!
Write for us!
So what about the OKC Thunder? Where do they sit for the next five outs? Spoiler alert: On a mountain of draft picks with a good foundation of young players.
To talk about the future, you have to discuss what you already have, what are you building around? Unlike some teams, the OKC Thunder already have their star in waiting. His name is Shai Gilgeous-Alexander and he is primed to be an All-Star and maybe one of the best players in the league at the height of his career. That plus 15 future first-round picks, is a very good start. So who are the top five young assets on the roster?